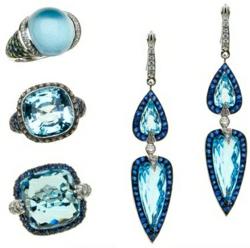 Our selection includes mom charms, Pandora charms and new birthstone jewelry
San Francisco, CA (PRWEB) May 09, 2012
Locally renowned for their cutting-edge designer jewelry, fine jewelry and Rolex watch selections, Julianna's Fine Jewelry, invites the community to come view the large and varied selection of gifts that it has available for Mother's Day.
"Our selection includes mom charms, Pandora charms and new birthstone jewelry," Judy White of Julianna's Fine Jewelry said. "Prices range from $35 for sterling silver to high-cost, high-quality jewels for one-of-a-kind gifts."
For nearly 27 years, this family-owned business has traveled the world in search of unique, trend-setting collections of designer jewelry and fine watches for its Corte Madera and Marin clientele.
Housing an array of Europe's top jewelry designers, Julianna's Fine Jewelry carries everything from Switzerland's Rolex watches to diamonds to wedding bands. Regardless of the cut or style, think of Julianna's Fine Jewelry as Marin's complete fine jewelry resource that is equipped with the knowledge, selection and customer service to fit all jewelry needs.
"We also welcome all fine jewelry and Rolex watches in need of repair. With a variety of jewelry repair, and cleaning and polishing options available, Julianna's Fine Jewelry offers bead and pearl stringing, including custom design of bead stringing; silver, gold, and platinum repairs on site, including exclusive laser repair; setting diamonds and gemstones; sizing and soldering jewelry; watch battery replacement; and fine watch repairs of all kinds," White said.
For more information about Mother's Day gift ideas or any of Julianna's Fine Jewelry's products or services, call 415-924-9711, view the jewelry store on the web at http://www.juliannasfinejewelry.com and http://www.marincafinejewelry.com, or visit 1632 Redwood Highway in Corte Madera.
About Julianna's Fine Jewelry
Julianna's Fine Jewelry of Marin carries an extensive collection of fine jewelry and designer jewelry, as well as Rolex watches and other fine watches. The store also offers services in custom jewelry design, jewelry and watch repair, jewelry appraisal and various assortments of bridal jewelry.