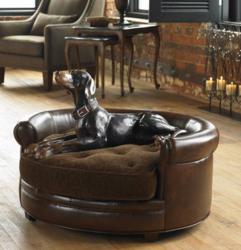 As with conventional pet beds, one does need to make sure that designer pet beds are the right size and weight capacity for the pet.
(PRWEB) August 16, 2012
HomeThangs.com – the Home Improvement Super Store has made their goal to deliver the right product to the consumer, with that in mind, shopping and home design tips, as well as special product selections are being introduced.
Typically, pet beds are one of the unfortunate necessities of pet ownership. Most dog mats or foam cat beds aren't exactly the most attractive things. But not all dog beds have to look like big fluffy door mats, and not all cat beds are covered in cartoon paw prints. These designer pet beds will actually enhance any decor as well as giving Spot a place to sleep.
HomeThangs.com has introduced a selection of luxury pet beds and a style guide on how to incorporate them into existing home décor.
1. A pet bed can be as much a piece of furniture as a real sofa or bed. For example, the Lucky Pet Bed from Uttermost is made of high quality imitation leather; it has a beautiful, traditional look to it that will blend beautifully with any living space. The brown cushion straps onto the main bed, so it won't slip or slide as the pet climbs in and out. It's perfectly suited for an old world style parlor with lots of rich dark woods and leather, and will let one keep the faithful companion close by without ruining the decor.
2. It's worth considering where to put the pet bed before buying one. Unlike traditional pad-style beds that are easy to pick up and plop down in a different room, luxury pet beds are engineered to be an important part of the decor. The Zuzana Pet Bed by Uttermost for instance is a great pair for a bedroom with a princess style canopy, or even a dining area with a table and chairs in a similar wood tone or with similar carvings, but it might look a little out of place in a room with bolder colors or darker wood. So if the only room it would work in is the bedroom, where the dog is not supposed to be sleeping at night, it is worth considering a different design.
3. For a modern decor, the choice is a little easier. Because modern design has a fairly limited palette – and largely makes use of a relatively small set of materials – modern luxury pet beds are much easier to match. The Milton Pet Bed by Uttermost is made of simple lines and slightly futuristic curves, covered in a plush velvet grey and faux charcoal ostrich leather that will easily pair with a modern industrial palette.
4. Many luxury pet beds simply look like miniature versions of luxurious sofas. The Dryden Pet Bed by Uttermost is nothing if not furniture quality, with gorgeous exposed woodwork, individually hammered furniture tacks over a faux leather body and a cushion with a polyester velvet cover that unzips easily and is 100% washable. While many ordinary pet beds – especially dog beds – are cumbersome and hard to keep clean (let alone smelling good), this piece offers utter ease of cleaning in a sophisticated designer package.
5. It is important to look for a pet bed that matches personality as well as the decor. The Rugby Pet Bed by Uttermost is essentially the pet-quivalent of a bachelor's favorite comfy couch, with soft, broken in brown suede polyester and tiny brass tacks and wood feet for a nice furniture finish. It's simple, comfortable, and will look extra nice if one has a similar sofa.
6. Some luxury pet beds are pure novelty, though. The Mon Chien Pet Bed by Uttermost is absolute Madeline-style charm, a tiny four post bed for a cat or smaller dog that makes a great accent piece even when the pet isn't napping. In this case, the design doesn't strictly have to blend with the décor.
7. As with conventional pet beds, one does need to make sure that designer pet beds are the right size and weight capacity for the pet. It is recommended to pay extra attention to the dimensions of the bed and any listed weight restrictions. While many dog beds and cat beds sit flat on the floor, luxury pet beds often have feet and internal framing, like full sized furniture.
HomeThangs.com is not only a home improvement superstore, it also provides expert design tips and a comprehensive shopping guide, taking the ideas from professional interior designers, and offering tips to the consumers on how to pick the products to best suit their needs.