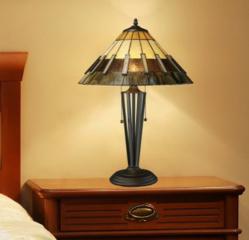 A good table lamp isn't one that falls short of being an eyesore, it's one that enhances the look and feel of the room, and can even act as a focal point or signature piece in the decor.
(PRWEB) August 14, 2012
HomeThangs.com – the Home Improvement Super Store has made their goal to deliver the right product to the consumer, with that in mind, shopping and home design tips, as well as special product selections are being introduced.
Lighting should always do double duty in a home. A good table lamp isn't one that falls short of being an eyesore, it's one that enhances the look and feel of the room, and can even act as a focal point or signature piece in the decor. The selection of designer table lamps available these days is effectively infinite.
Designers, lighting manufacturers, and even producers of fine home decor all have their own offerings and it can be a little difficult to sift through them to find the right one for a personal style.
HomeThangs has introduced a line of designer table lamps, as well as a tip sheet on how to pick the right ones.
1. Color
One of the easiest ways to find a table lamp that will really make a statement is to look at the color. There are two ways to go: one is to find a table lamp with a multi-colored body or shade, like Porterdale Tiffany Table Lamp from Dimond Lighting for instance. The colors should be similar or at least complimentary, and most if not all of the colors should be carried out through the rest of the room. It's good to have some fabric and paint swatches on hand when you choosing this type of table lamp, because if the colors mesh well, that single piece can give the whole space a sense of harmony and unity.
The other option is to go with a lamp that's a single bold color, like Alva Table Lamp by Dimond Lighting. This is especially effective in rooms that are otherwise relatively neutral (as they act as a dramatic focal point), or in rooms that are more or less monochromatic, either in the same color or a contrasting shade.
2. Texture
Table lamps don't necessarily have to come in a bold color to be eye catching. For example, Ceramic Table Lamp by HGTV Lighting is ultimately just a silver table lamp with the silver lamp shade, but the hammered metallic texture on the ceramic body plays an excellent counterpoint to the simple, rugged textile texture of the lamp shade, and the two together make for a visually interesting focal point by contrast. When getting a lamp where texture is the main feature, 2-3 contrasting textures in a simple color scheme will really draw the eye.
For a more opulent space, a table lamp with a relatively simple body but a lampshade made of an intricately patterned material would be a good choice. For example: Avonmore Table Lamp By Dimond. The texture doesn't necessarily have to match furniture, but table lamps with upholstery-esque lampshades can be especially pretty in a very fabric-heavy space.
3. Shape
Sometimes, a pretty table lamp is one that's purely interesting to look at, and often that means that it has a base that comes in an interesting or unique shape. The design can be simple, like the stem of Athens Table Lamp by Dimond Lighting, but because it's unique, even if it's paired with a completely average lampshade, the shape will be eye catching and just enough out of the ordinary to enhance the look of the room. There are hundreds or thousands of designer table lamps out there with simple but interestingly shaped bases, and designs run the gamut from simple tree branch silhouettes to complicated, layered modern patterns, but a shaped lamp is an excellent way to insert an interesting, statuesque piece into any room without having to worry too much about coordinating colors or textures.
4. Theme Table Lamps
Some table lamps are designed with a very specific staging in mind. For example, Cork Topped table lamp from HGTV Lighting, is the perfect pair for a sandy seaside or island theme. Lamps like this are almost more like props than anything, acting as a set piece for a very specific design that just happens to have a lighting fixture attached to it.
Similarly, some theme table lamps evoke hobbies rather than scenery. For example, Ethan Vintage Tripod Lamp by Dimond Lighting is a miniature theater lantern, and makes an excellent pair for a home theater, TV room, or even an artist's loft – perfect for anyone who loves the theater, works behind a spotlight, or hopes to find themselves in front of one. Table lamps like this are available in a whole variety of interests – from maritime inspired to steam punk-chic, with just a little work one can find a designer table lamp to accentuate one's personality as well as the decor.
HomeThangs.com is not only a home improvement superstore, it also provides expert design tips and a comprehensive shopping guide, taking the ideas from professional interior designers, and offering tips to the consumers on how to pick the products to best suit their needs.