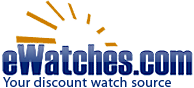 Only our Black Friday Sale was this big. Since Leap Year only happens once every 4 years, we figured we'd make it count!
Hollywood, Florida (PRWEB) February 29, 2012
eWatches, the leading online retailer of discount designer watches announced today that they will host a one-day sale on February 29th, 2012. Once every four years these designer watches are discounted for one day only at The Leap Year Sale event. During the sale, hundreds of watches will be sold at prices that won't be seen again for another four years! Designer watches on sale include Invicta, Stuhrling, Swiss Legend, Lucien Piccard, Bulova, and Seiko.
This Leap Year, eWatches will celebrate with the most exceptional prices on top brand name designer watches for both men and for women since November's Black Friday sales event. The promotion itself includes:

Hundreds of designer brands at never before seen prices
Sale lasts one-day only and starts at midnight on Wednesday, February 29th
Save extra on this day! Designer watches at up to 90% off
For just 24 hours, the promotion will include top-of-the-line designer watches at never before seen prices—up to 90% off. Watches in the sale include styles by popular brands including Invicta, Stuhrling, Swiss Legend, Lucien Piccard, Swiss Army watches, Bulova, Seiko, Skagen, and Glam Rock.
Via the company's social media outlets, customers are already "leaping" at the chance to get hundreds of watches on sale for one exceptional day and are discussing amongst themselves about which brand name watches they can't wait to get their hands on.
The Leap Year Sale event is the latest in a calendar of holiday sales and provides shoppers the perfect opportunity to get a gorgeous new designer watch for spring, while taking advantage of the deep discounts.
About eWatches
eWatches.com is an award-winning website that has been selling designer watches to tens of thousands of satisfied customers since 2003. In both 2007 and 2008, Inc. Magazine selected eWatches.com as one of America's 500 Fastest Growing Companies in its annual Inc. 500 list. eWatches gives customers a superior shopping experience with:
FREE Shipping on all domestic orders
100% Satisfaction Guarantee
Low Price Guarantee
30 Day Money Back Guarantee
To get the latest buzz and inside scoop, follow eWatches on Facebook and Twitter at 'ewatchesscom'.
###