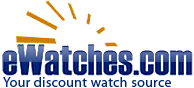 We were so excited to add even more styles on the day of Presidents' Day to celebrate the momentous Holiday. More discounts on more watches!
Hollywood, FL (PRWEB) February 23, 2012
eWatches.com, a leading online retailer of watches for men and women, always strives to offer the best watch discounts to their customers. They are known for being one of the most popular designer watch retailers and they strove to bring discounts to the masses when it came to this Presidents' Day Sale. There were savings up to 90% plus free shipping.
This Presidents' Day Weekend, eWatches hosted the Presidents' Day Sale from February 17 through February 20 and the promotion included:

Savings up to 90% on eWatches extensive inventory.
Prices marked down as low as $24.99!
Free shipping
Starting Friday morning at 9AM, prices on women and men's watches were marked down to as low as $24.99. Hundreds of styles—most of them best-sellers including Seiko, Invicta, Bulova, Swiss Legend, Stuhrling, Skagen, Lucien Piccard, Glam Rock watches and Swiss Army watches—were discounted through Monday at midnight. With so many discount designer watches to choose from, shoppers indulged during the four-day event and enjoyed the limited-time free shipping.
For four days only, eWatches shoppers found their favorite designer watches at discounted prices—watches were on sale for as low as $24.99. To much delight, more styles were added on the day of Presidents' Day to celebrate the Holiday. Shoppers were thrilled to see their favorite discount designer watches at even deeper discounts, resulting in record-breaking Presidents' Day Sale profits.
Saving opportunities on men's designer watches guaranteed holiday weekend shoppers a find for every member of the family. Many incentives gave customers a weekend of shopping an impressive selection of designer watches, like women's watches and men's watches I by Invicta, Stuhrling Original Watches, Swiss Legend watches, Lucien Piccard watches, Victorinox Swiss Army watches, Bulova for men, Seiko kinetic watches, Skagen watches for women and men, and Glam Rock watches.
The Presidents' Day Sale put watches on sale for four days at the lowest prices on the web. In addition, the site always offers consumers free ground shipping on all watches all the time, which they can upgrade to second-day air for just $5.
With a year of birthdays and anniversaries ahead, the eWatches Presidents' Day sale was the perfect opportunity to take advantage of discount watches and brand name watches offered on one of the biggest shopping weekends of the year. True to form, this was the latest in a packed calendar of holiday sales. Be sure to stay tuned for additional seasonal sales.
About eWatches
eWatches.com is an award-winning website that has been selling watches to tens of thousands of satisfied customers since 2003. In both 2007 and 2008, Inc. Magazine selected eWatches.com as one of America's 500 Fastest Growing Companies in its annual Inc. 500 list. eWatches gives customers a superior shopping experience with:
Free Shipping on all domestic orders
100% Satisfaction Guarantee
Low Price Guarantee
30 Day Money Back Guarantee
To get the latest buzz and inside scoop, visit and follow eWatches on Facebook and Twitter at 'ewatchescom'.
# # #