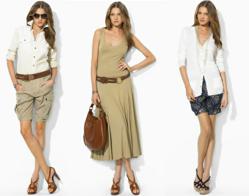 I don't design clothes. I design dreams - Ralph Lauren
Milan, Italy (PRWEB) July 05, 2012
DolceFugo.com has recently published a statement by the site owner Giovanni Ficca. In it Ficca announces the dates for the upcoming annual DolceFugo.com Grand Summer Sale. The statement can be found on the site.
Further, the statement sheds some light on the particulars of the two-week sale. By the way, the sale will open on July 15th and will end on the 29th. Several Spring and Summer 2012 designer clothing and accessories collections presently featured on the site will go on sale early morning of the 15th. Among them are men's collections by Armani, Versace, Prada and John Galliano. Likewise, much of women's wear and accessories will be reduced by up to 75%. All footwear from summer collections will be 50% off throughout the entire sale.
Ficca goes on to state that the Grand Summer Sale 2012 prices will be the same for all visitors without exception and there will be no preferential treatment for the site's loyal clients. This is different from many DolceFugo.com previous sales, when certain subscribers and repeat customers would get even better deals than the rest. "It has gotten to a point where new customers would not be able to take advantage of our offers because the special-treatment clients would have cleared the stock long before the sale is over" says Ficca.
A special section of the sale will be dedicated to some remaining Fall and Winter stock from previous seasons. Designer clothes and shoes by such designer brands as Gucci, Versace, Prada, Cavalli, Burberry, Dolce & Gabbana will, according to DolceFugo.com, be retailed at as low as one fofth of the original price, that is to say at 80% off.
This particular catalogue of previous season items is supposed to comprise jeans, sweaters, shirts and dresses as well as outer wear pieces for winter such as jackets, coats and winter footwear.
Further information can be found on the website http://www.dolcefugo.com.