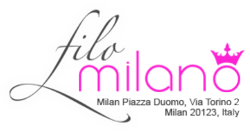 Clothes make the man. Naked people have little or no influence on society.
~Mark Twain
Milan, Italy (PRWEB) October 25, 2011
The short launch statement argues that the online retailers of designer clothes have not been putting enough effort into satisfying the rapidly evolving customer demands and expectations. Filomilano.com is the site to bring the ultimate VIP experience to their clients' desktops, smart phones and other devices. "we are going to pursue a wide range of goals with this site, but our biggest interest lies in optimizing the shopping experience. Our merchandise is already luxurious, beautiful and in very high demand, so there is no immediate need to worry about the product finding the customer. It is the process of shopping for designer clothes online that we want to devote most of our efforts to. The stagnant internet designer goods retail has become much too conspicuously below the standards expected of designer goods merchants. Filomilano.com will offer clients a completely new approach to online designer clothes shopping." The statement goes on, specifying the various allegedly innovative improvements and solutions that Filomilano.com implemented to achieve their objective. Among these, the much more user-friendly site interface with beautiful design and modern functionality that "will make check-out significantly easier and faster than with what is seen everywhere today". Filomilano.com clients are also promised a truly outstanding customer care and order handling. A client will be able to interact with the site in a number of ways including social media-related features, apps etc.
Filomilano.com will also offer services of an online personal shopping assistant. This service will provide style, sizing, matching and other expert advice from professional stylists free of charge. "Because when people buy designer clothes online, there is never a real person to consult them about certain things they may be unsure of. Instead, they are usually left to their own devices (no pun intended), overwhelmed by vast oceans of information. Here, a client will be entitled to personal treatment and enjoy the benefit of expert advice of Filomilano stylists". Right now, the service is only available to certain chosen clients but very soon it will offered to all who buy designer clothes from the site.
Visit now FiloMilano.com to take advantage of great prices on luxury designer items!
###