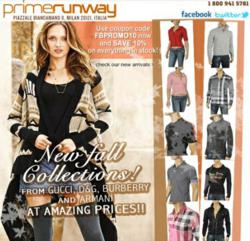 The difference between style and fashion is quality.
Giorgio Armani
Milan, Italy (PRWEB) October 09, 2011
A statement recently published on PrimeRunway.com reveals the concept behind the store's most recent catalogue additions. The idea is apparently to assemble a selection of absolutely essential men's designer clothing and accessories for the Fall season. As always, only top designer brands will be involved and the tone is expected to lean towards casual. Below are some condensed ideas from the statement.
PrimeRunway.com have been working hard at concocting a list of essential demi-season items that any man ought to have in his wardrobe. There are several factors that were carefully considered: mainly, functional properties and of course the look. Functionally, designer clothing for the Fall should perform well in repelling moisture and isolating heat as the autumn months tend to be pretty cool, windy and require appropriate heat-isolating garments. The look of autumn clothes is largely dictated by their primary functions as well as a designer's artistic vision.
First and probably most essential item on the list is a pair of waterproof, sturdy and of course stylish boots. Rubber boots are a passing trend and they don't allow for proper ventilation. It is a smart idea to get a pair of well-made leather boots on a heel or platform. This way they will be slightly raised above the surface of rain-flooded sidewalks and there will be significantly less flooding inside the boot itself. PrimeRunway.com is now stocking a magnificent selection of men's designer boots that are both extremely practical and stylish.
The next item on the essential rainy season men's designer clothing list is not a raincoat. It is a stylish synthetic jacket, waist-long or slightly longer and preferably with a hood. These things are water-resistant, come in all kinds of designs and colors and they are contemporary and stylish. It's best to get one with a hood in case your umbrella breaks in the October wind. PrimeRunway.com carries a great many of these wonderful modern pieces from the latest Fall/Winter Collections by ARMANI, VERSACE, GUCCI, PRADA and D&G.
Next on the list is a light-knit sweater. Nothing heavy, just an extra layer to help preserve body heat on the cooler days and nights. It can really be cotton or wool. The important thing to remember is it shouldn't be thick and heavy. Those heavy fisherman's sweaters are generally for the winter months. PrimeRunway features a great number of light designer sweaters from cotton to cashmere with prices varying accordingly. Featured brands are DOLCE & GABBANA, VERSAGE, ROBERTO CAVALLI, GUCCI and PRADA. There is also a great selection of designer hoodies by Christian Audigier and Ed Hardy. These will be perfect for an even more casual look.
The final touch in a Fall wardrobe for a modern man, according to PrimeRunway.com is a pair of jeans. Who wants to get wet in slacks or khakis? But jeans are perfect for unpleasant weather. Well, maybe perfect is too strong a word but for getting out and about, running daily errands etc. jeans are pretty close to optimal. They can be even tucked into the boots should the weather get too unbearable. Of course, as always, PrimeRunway.com has the perfect selection of designer jeans coming straight from the 2011-2012 Fall / Winter runways of Milan, Paris and New-York.
These are the men's designer clothing essentials for Fall 2011 by http://www.PrimeRunway.com. To learn more please visit the site and subscribe to their weekly newsletter.
###