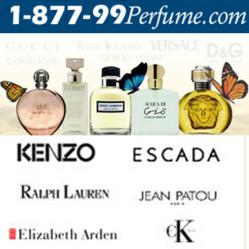 Customer Reviews: "I have purchased several times from 99Perfume.com and have never had a problem with my order." - Sarah

"Love 99Perfume.com!" - Alisha R

"I highly recommend this company, good price and product" - Bill W.
Manalapan, NJ (PRWEB) October 24, 2012
One of the first distributors of designer perfumes and fragrances to go online when the internet debuted commercially in 1996, 99Perfume.com started with a little over 500 fragrances in 1996 and is now carrying more than 10,000 discontinued and designer perfumes for both men and women. All designer fragrances are 100% genuine and created by 99perfume's original designers.
The website, http://www.99perfume.com, exhibits fragrances for women such as Burberry, Fire and Ice, Dolce and Gabbana Light Blue, Fantasy, and Clean Warm Cotton as well discontinued fragrances such as Avatar by Coty, Moments by Priscilla Presley, Nilang by Lalique and many more designer perfumes. Some of the featured men's fragrances are Hilfiger by Tommy Hilfiger, Burberry London, Ferrari Black, and Perry Ellis. Some top sellers are Tuscan Soul, Usher UR by Usher, New Victorian, and Very Wang.
99Perfume now serves millions of customers worldwide and puts customer contentment first. They work hard to ensure that customer's online shopping experience is both enjoyable and satisfying. Their number one concern has always been "to offer superior customer service and offer the greatest selection of fragrances under one roof," says company marketing director Nishat Kakar.
In preparation for the upcoming holiday season, 99Perfume is offering all designer perfumes at deeply discounted prices along with more hard to find fragrances than before. On top of the discounts given, 99Perfume also promises coupons during the holidays that can meet or exceed up to 20% off already low prices. For even more savings customers can also look for clearance items via 99Perfume.com.
Check out 99Perfume.com for a designer or discontinued fragrance request.
Customers can call for a fragrance request at 1-800-980-0072 or simply send an email to orderinfo(at)99perfume(dot)com.
You can also interact with them online at the following social websites:
Facebook: Facebook.com/187799perfume
Twitter: Twitter.com/99Perfume.
Blogspot: 99perfume.blogspot.com
Pintrest: Pinterest.com/99perfumecom
Polyvore: www-99perfume-com.polyvore.com
Customer Service is available Monday through Friday
9:30 a.m. - 6:00 p.m. Eastern Standard Time.
Phone #: 1-800-980-0072 - Toll free in the U.S.
732-792-1383 - Outside the U.S.
Fax # 732-414-4273
Corporate Headquarters:
EPI Enterprises, LLC
99Perfume.com
650 Madison Ave.
Manalapan, NJ 07726
USA