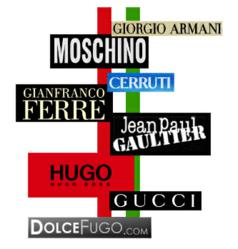 In the past, people were born royal. Nowadays, royalty comes from what you do.
Gianni Versace
New York (PRWEB) July 05, 2011
According to Giovanni Ficca of DolceFugo.com (a statement recently published on the website), the DolceFugo team is launching a number of online tutorials on designer clothes and style. These will be accessible to DolceFugo.com newsletter subscribers and will cover major topics related to shopping for clothes, dressing smart and creating individual style. These tutorials will be updated weekly throughout Summer 2011. They will consist of useful tips and specific illustrated instructions on how to shop, handle and wear designer clothes. There will also be video appearances of some fashion celebrities. The introductory tutorial has been made available for all site visitors. Below is the shortened version.
It can be very hard to navigate in the volatile currents of modern fashion and designer clothes. The fashion industry has grown immensely in the past couple of decades and there doesn't seem to be any reason for it to stop expanding further. Designer clothes have become much more diversified and versatile. Today, one can practically wear designer labels on absolutely any occasion: to dinner, to breakfast, to walk a dog and to work in the garden. Designer clothes have embraced and conquered every clothing niche from formal wear to gym clothes. Here are some useful tips on building a successful wardrobe and creating a unique personal style.

Designer clothes or not is of lesser importance than dressing appropriately for the occasion. In other words, it is best to avoid wearing a suit to a hiking trip or jeans to a wedding, unless of
course it's a denim-themed wedding.

Formal and semi-formal shoes should be made of genuine leather or other natural materials. Otherwise, they won't wear quite as well, look as good or last as long. Synthetic materials are mostly for sporty footwear.
Designer underwear can be very sexy and chic. But the most important thing to remember about underwear is that it's supposed to be comfortable and protective.
Designer gloves are extremely hot. These days, unfortunately, this often underestimated accessory is pretty much for the cold season only, but high quality gloves can really bring an outfit to a new level. For those who live in the colder latitudes it is useful to own
a couple of different pairs of gloves for various occasions and contexts. In formal business wear gloves are often expected to match shoes in color.

Designer shirts are usually made with superior fabrics (most of the time, cotton) and thus tend to have a better feel as well as a better look. Dress shirts are usually longer and can be a bit more loose-fitting sometimes. Whereas, casual shirts are often a bit more tailored.
Designer clothes can be boisterous and flashy as well as strict and conservative. The most important thing is of course the fit and comfort. Whether a garment has a visible designer label or not, if it is in fact a designer piece, it will almost always wear more comfortably and durably than if it weren't.
Casual shirts should not be worn buttoned all the way up. It is always best to leave two to three buttons open as long as the undershirt (if there is one) isn't showing.
Designer jeans are sexy and they look great on anybody. The trick of course is to get the right size and the right fit. This means that jeans have to be the right length. If there is too much fabric gathering around the ankle, it means the jeans are too long, so it's either not the right size or they need to be altered by a tailor. It is not recommended to wear jeans too low below the waist. This just looks sloppy and silly. Likewise, jeans shouldn't be high-rise. Slightly below the waist is usually optimal.
This is pretty much the format of the upcoming designer clothes tutorials, except there also will be pictures and video presentations available on the DolceFugo website. For further details, visit DolceFugo.com.
# # #