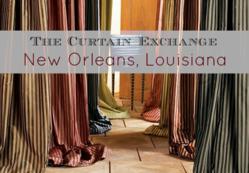 'The raffle was a great way for us to introduce our curtain shop to new customers,' she said. 'The stroll in general was a huge success. The amount of visitors we saw was almost triple that of last year's event.'
New Orleans, LA (PRWEB) May 17, 2013
The owner of The Curtain Exchange, a seller of custom curtains and designer draperies in New Orleans, has announced the three winners of the raffle her store held during the Magazine Street Champagne Stroll on May 11. Each of the winners of the raffle will receive a $200 The Curtain Exchange gift certificate. The winners will be notified, and the names will be announced on the company's blog.
Elaine Cullen, owner of The Curtain Exchange of New Orleans, said Tuesday that the raffle drew in customers during the Champagne Stroll, which was a very successful event. "The raffle was a great way for us to introduce our curtain shop to new customers," she said. "The stroll in general was a huge success. The amount of visitors we saw was almost triple that of last year's event."
The Magazine Street Champagne Stroll is a yearly event held by the Magazine Street Merchants Association in New Orleans. The event features live music, open air shopping and complimentary champagne. In addition to the opportunity to win one of three gift certificates, Cullen offered her guests homemade cookies. "We love this event," she said. "It's always great to see old customers, new customers, and our family and friends having such a good time."
The Curtain Exchange offers custom luxury curtains and designer drapery and window treatments in New Orleans, Louisiana. In addition to a constantly updated line of fabrics that may be selected from to create custom draperies, The Curtain Exchange also carries a distinctive selection of ready-to-buy curtain styles and offers drapery hardware and installation. The store's in-house consultants are happy to work with guests in-store or at home, and customers are encouraged to take advantage of The Curtain Exchange's 48-hour take home approval process. All of The Curtain Exchange's draperies are made in the USA. For more information or to schedule an in-home consultation, please visit thecurtainexchange.com or check us out on Facebook!