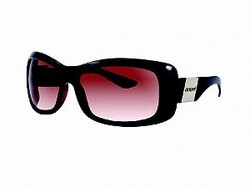 San Diego, CA (PRWEB) January 30, 2009
As a first-rate online store for all kinds of brand name sunglasses, Sunglasses Online is excited to present a special discount on Aura Brown Gem sunglasses by Angel. Nearly 40% off the already inexpensive price tag, these glasses are a steal. On top of this amazing deal, there will also be an exclusive free shipping offer that lasts the whole month of February for all sunglasses throughout the store.
The Angel collection comes from the same leading San Diego-based sunglasses company that created the trendy Anarchy line of sunglasses. They initially engineered their sunglasses for the sports enthusiast who has the need for eyewear with optimal functionality. Quickly gaining in popularity, they evolved over the last decade for a broader consumer base and have successfully blended aesthetic value with the same level of impeccable quality. While remaining top-of-the-line performance sunglasses similar to Ray Ban sunglasses, they are now also best in fashion. The designers collaborated together to come up with a more accessible look that appeals to the everyday person. Angel sunglasses are apart of a specialty line that came out of these efforts and are designed specifically for women. It has a wide variety of models that range from polarized high-performance sunglasses to those that are geared more towards the discerning fashionista.
These distinctive Angel models are perfect because they offer 100% UVA and UVB protection. With their sturdy polycarbonate lens material, you can trust that your eyes will be defended against the harmful ultraviolet rays of the sun. As oversized sunglasses, these Aura Brown Gem literally have you covered. The durable but lightweight black frame also manages to add a seamless sophistication while the 5 barrel low hinge profile is incredibly cutting-edge. If you would like to purchase a pair, you will be able to find these beauties on Sunglasses Online's extensive online store for a mind-blowing $55--twenty dollars off the original $72 retail price! While you're there, feel free to browse through all the various collections available. We have a remarkable selection of sunglasses of all different styles, price ranges, and brands. Shop around hip trademarks such as Chanel, D&G, Ray Ban and Oakley sunglasses. Sunglasses Online strives to be at the forefront of sunglasses technology while satisfying customer demands for visually attractive products.
About Sunglasses Online
Sunglasses Online is the leading retailer for sunglasses online, with a passion for offering the best selection of discount sunglasses from all of the hottest designers. They have a paramount selection of styles, such as men's sunglasses, women's sunglasses, performance sunglasses, unisex sunglasses, aviator sunglasses, oversize sunglasses, wrap around sunglasses, and polarized sunglasses. They are confident in the fact that their customers will find the perfect pair to complement their style as well as their attitude. Sunglasses Online is dedicated to bringing their customers an unsurpassed selection of sunglasses at the very best value by designers such as Ray Ban, Oakley, Spy and Chanel sunglasses. Not only that, but Sunglasses Online offers affordable style, and a great customer service experience.
###