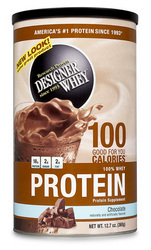 With Rite Aid as our partner, DESIGNER WHEY protein products will reach people across the country, enabling them to embrace a more health conscious lifestyle
Carlsbad, CA (PRWEB) March 4, 2008
NEXT Proteins Inc., the creator of the #1 selling* DESIGNER WHEY® protein powder has entered into a sales agreement with Rite Aid, one of the largest retail drugstore chains in the United States.
This partnership will make DESIGNER WHEY's one-of-a-kind range of products available through Rite Aid's extensive store network. The agreement calls for DESIGNER WHEY products to be on shelves in more than 1,500 Rite Aid stores. Consumers can now discover great tasting protein powder in formats perfect for "on-the-go" or traditional everyday use. Delicious flavors include Orange Mango, Pomegranate Fruit, Chocolate, French Vanilla and Strawberry.
"With Rite Aid as our partner, DESIGNER WHEY protein products will reach people across the country, enabling them to embrace a more health conscious lifestyle," said NEXT Proteins' CEO, David Jenkins, "DESIGNER WHEY will change the way America looks at protein."
For more information on DESIGNER WHEY's complete line of protein powders, visit http://www.designerwhey.com or call (800) 468-6398. Also online, learn innovative ways to incorporate protein into current diet plans, meals and discover tasty protein shake recipes.
Consumers or media members looking to try a FREE sample of DESIGNER WHEY protein can log onto http://www.designerwhey.com/samples.
*Based on AC Nielsen sales monitoring for 52 weeks ending 12.29.2007, DESIGNER WHEY brand is #1 in Unit Sales for high protein powder in US-FOOD.
ABOUT WHEY PROTEIN & DESIGNER WHEY
Whey protein has been called the ultimate functional food. The revolutionary benefit of DESIGNER WHEY® products is the utilization of Whey, a protein-rich liquid component of milk produced as a byproduct of the cheese-making process.
Since 1993, NEXT Proteins has pioneered the manufacture of a full line of branded consumer whey-based products. NEXT Proteins manufactures the industry's best selling protein, DESIGNER WHEY®, which powers the company's innovative, great tasting products such as DESIGNER WHEY® and DESIGNER WHEY Weight Control™ protein powders.
###