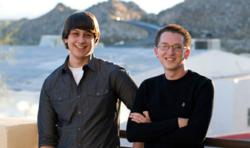 The High Desert is where we grew up and we we started. We intend on giving back to the community by keeping our business here.
Apple Valley, CA (PRWEB) June 25, 2012
DesignFluxx, the single largest web design firm in the High Desert Region by client base and annual revenue - announced plans keep their Apple Valley Offices open, after recently expanding to their new headquarters in Long Beach. The new headquarters will allow DesignFluxx to compete at a regional level, as well as open up new markets, however the High Desert Offices provide a presence in a economically growing market.
"The High Desert will always be home, our goal is to support the local economy and provide a much needed service," said DesignFluxx CEO Scott N. Perkins. "The High Desert is still in great need of what we do as it continues to grow and realizes the need for comprehensive web marketing. We plan to maintain a strong presence there through our expansion, and into the future."
With few competitors established in the area, DesignFluxx opened their Apple Valley offices in September of 2011 and quickly dominated the Victorville Website Design, Hesperia Website Design, and Apple Valley Website Design markets. Having developed a reputation for leveraging advanced web technologies to further their clients businesses exponentially, DesignFluxx will continue to focus their efforts in the High Desert area through their expansion. "In our business, it's all about results," Perkins continued. "Our age makes us ambitious, and is what also makes us experts in our industry. By keeping our clients on the cutting edge with their web marketing, we are keeping them one step ahead of their competitors."
DesignFluxx will be expanding its marketing efforts to the Long Beach Website Design market and broader Southern California areas through the rest of 2012, and hopes to open its 3rd office in Q1 of 2013. With over 380 clients in 14 states, DesignFluxx plans to continue opening locations in efforts to improve customer service and understanding in an ever-evolving field. "Clients need to know that we are there for them. Most of our clients come to us because their previous developer did business by phone or email, we are here to offer that personal level of service. We are always here for our clients." Perkins said.
DesignFluxx is now headquartered in Long Beach, CA, with offices in Apple Valley, CA – serving clients nationwide.