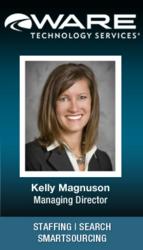 Minneapolis, MN (PRWEB) April 10, 2012
Ware Technology Services, an Atterro company, will be attending the Design of Medical Devices Conference Job Fair in Minneapolis, MN. The Job Fair is a unique opportunity for those seeking employment to network with Medical Device industry professionals and companies. The Medical Devices Job Fair will be held at The Hubert H. Humphrey Ballroom in The University Hotel-Minneapolis on Tuesday, April 10th from 5:30-7:30 pm.
There is no fee to attend the job fair and no registration is required.
Ware Technology Services specializes in connecting technical professionals with organizations and job opportunities specifically matched to a person's individual goals and placement criteria. Ware recruiters are experienced in the technology industry and take the time to assess your skills and understand what is important in your career. If you are an active job seeker or simply looking to network, Ware can be a trusted resource to help you succeed.
Ware Technology Services is a division of the Atterro Human Capital Group. Atterro offers interim staffing, search and SmartSourcing services to national and global customers. Atterro services are delivered by experienced industry professionals utilizing the latest research, recruiting technology and assessment tools. Atterro delivers its services through its four specialty brands—Digital People for creative and marketing, Hunter Hamilton for finance and accounting, Pro Staff for administrative and light industrial, and Ware Technology Services for engineering and information technology. Learn more at Atterro.com
Contact:
Jonah Cagley
Group Marketing Director
email: Jonah.cagley(at)atterro(dot)com
ph. 612‐373‐2655
Atterro Human Capital Group
50 South 10th St., Suite 500
Minneapolis, MN 55403
http://www.atterro.com