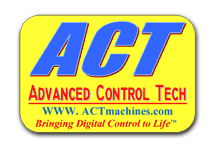 Advanced Control Tech is now offering their new line of small desktop CNC machines that set a new benchmark of precision and performance in the desktop / bench top CNC router industry on their website at http://www.actmachines.com.
Granada Hills, CA (PRWEB) June 06, 2013
Advanced Control Tech's new DCM-III, the latest addition to its line of small, desktop CNC router based milling machines, has a light weight but incredibly solid, strong construction to perform complex milling operations with high precision and accuracy. In addition to its light weight and versatility, the DCM-III's low price under $10,000 makes it the best bargain in the desktop CNC machine market.
Refined after four years of in-depth research, followed by intensive development and testing, the DMC-III is the most technically advanced bench top CNC machine on the market. It has a 20 mm ball screw that contains a dual linear ball-bearing slider for all axis and an advanced digital control system that delivers pinpoint motion and spindle control, the same components used in large and far more expensive CNC milling machines.
The DVM-III represents the latest breakthrough in computer numerical controlled technology, which provides the highest quality performance at an unmatched affordable price for precision workmanship on tasks such as jewelry making, 3D mold making, engraving, research lab work, PC board drilling, dental applications, etc.
In addition to its state of the art technological advances, the DCM-III has rapidly gained market popularity with its compact, lightweight construction that makes it portable and adds versatility to any shop. Weighing in at just 260 pounds, the bench top/desktop small CNC machine can be used for a full range of projects with pinpoint accuracy, topping all other desktop routers on the market. Despite its light weight and easy portability, the milling machine breezes through heavy-duty applications with ease. ACT also offers an accompanying metal desk for the DCM-III for freestanding, non-desktop usage.
The lightweight compact design is ideal for desktop operations, but is also rugged enough for all metal parts up to 12" X 8" X 6" in size. ACT is currently offering a $2,000 discount, bringing the total price to below $8,000, clearly the best bargain on the CNC router milling machine market. The unit includes a PC with Windows XP operating system, Mach 3 CNC Controller software, a toolbox that contains specially designed work piece(s) clamping devices, wrenches, selected collets, and milling bits for turnkey operation. The DCM-III is covered with a standard one-year warranty, with a two-year extended warranty option available.
Advanced Control Tech has spent years of refining and research to develop its full line of high quality products, which also includes liquid cooling systems, the NSK 50,000 rpm Spindle System, the 4th Axis Turntable, the ER11 Spindle, M2 Brushless Motors, and CAD/CAM software.
ACT has an unparalleled reputation for its ability to deliver the highest quality desktop CNC machines for prototyping as well as bench top CNC machines that feature world-class technology at affordable pries. The company's CNC enabled milling machines deliver the ability to move the spindle vertically as well as across the axis Z, making it possible to perform the most precise tasks.
Details about ACT's milling machines and price and shipping quotations can be obtained by contacting the manufacturer at (818) 363-6070 or online at http://www.actmachines.com.