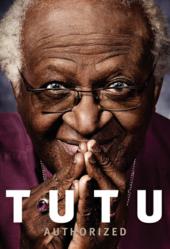 "Sometimes strident, often tender, never afraid, and seldom without humor, Desmond Tutu's voice will always be the voice of the voiceless."
— Nelson Mandela
San Francisco, CA (PRWEB) October 03, 2011
A man of great faith, integrity, and courage, Desmond Tutu is beloved and respected throughout the world. His retirement from public life in 2010—following retirement from his role as the Archbishop for South Africa—made headlines across the globe and was acknowledged by world leaders including President Barack Obama.
Now, timed with the world-wide celebrations of Tutu's 80th birthday, TUTU: AUTHORIZED (HarperOne; October 2011) offers readers fresh insight into the life of this humble Anglican priest who stood up to the racist policies of apartheid with faith and conviction. At the most pivotal moment in South Africa's history, Tutu helped to forge a new government in the face of looming racial violence. Chronicling his post-apartheid career as chair the Truth and Reconciliation Commission, his Nobel Peace Prize, and his role as a global moral leader on humanitarian issues, this beautifully rendered biography features:

Unpublished documents and letters from Tutu's private collection,
Over 200 never-before-seen photos of his personal and public life throughout,
Interviews and reflections from Nelson Mandela, F.W. deKlerk,
Daw Aung San Suu Kyi, Condoleeza Rice, and many others.
Though Desmond Tutu's beliefs are strong and often times controversial, his is a message of hope and optimism rooted in community. TUTU: AUTHORIZED is an intimate portrait that gets at the heart of a man dedicated to the defense of human rights and fighting all forms of oppression through advocating non-violence, peaceful reconciliation, and social justice for all.
About the Authors
ALLISTER SPARKS has been a friend and comrade of Desmond Tutu for many decades. Sparks was editor of The Rand Daily Mail from 1977 to 1981 and South African correspondent for The Washington Post, The Observer and Holland's leading newspaper, NRC Handelsblad, from 1981 to 1992. He was named International Editor of the Year in 1979, was nominated for a Pulitzer Prize for his reporting of racial unrest in South Africa during 1985, and won Britain's David Blundy Award for foreign reporting in 1985. In 1992, Sparks founded the Institute for Advanced Journalism, in association with the University of the Witwatersrand, to upgrade the standard of journalism in South Africa.
The Reverend MPHO TUTU has run ministries for children in Worcester, Massachusetts; for rape survivors in Grahamstown, South Africa; and for refugees from South Africa and Namibia at the Phelps Stokes Fund in New York City. She is the Chairperson Emeritus of the board of the Global AIDS Alliance, Chairperson of the Board of Advisors of the 911 Unity Walk, and a Trustee of Angola University. She has authored Made for Goodness with her father, Archbishop Emeritus Desmond Tutu.
TUTU: AUTHORIZED
By Allister Sparks and Mpho Tutu
HarperOne, an Imprint of HarperCollinsPublishers
October 2011 | $29.99 | Hardcover | ISBN: 9780062087997
# # #