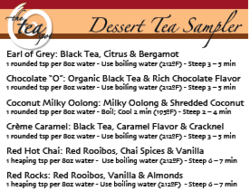 Boulder, Colorado (PRWEB) November 30, 2011
Perfect as a holiday tea gift, the Dessert Tea Sampler has six gourmet loose leaf teas, spanning the gamut from loose black teas to oolong tea and caffeine-free herbal teas. The Dessert Tea Sampler combines chocolate, caramel, vanilla cream, citrus and bergamot, as well as almonds, coconut and hot spices. This zero-cal, gluten-free, dessert tea collection includes 6 mini tea tins, filled with handcrafted blends that have notes of chocolate, vanilla, caramel, cinnamon, and coconut. The loose leaf teas in the Dessert Tea Sampler are three of The Tea Spot's signature black teas, one oolong, and two herbals: Chocolate "O", Creme Caramel, Earl of Grey, Red Rocks, Red Hot Chai, & Coconut Oolong. All six of the teas are handcrafted in Boulder, Colorado.
Chocolate "O" is a certified organic full leaf black tea laced with the purest of chocolate aromas on a delicious malty base, with hints of caramel and honey.
Crème Caramel is an aromatic dessert tea blend of premium black tea with real pieces of gourmet caramel.
Earl of Grey takes traditional Earl Grey to the next level by combining the traditional bergamot flavoring on full leaf black tea then adding other citruses, vanilla, licorice root, and mallow flowers.
Coconut Milky Oolong is a smooth milky hand-rolled Oolong blended with roasted coconut.
Red Rocks is a blend of naturally caffeine–free South African red Rooibos, vanilla, and almond bits.
Red Hot Chai is also a strong naturally caffeine–free South African red Rooibos base spiced with the season's boldest flavors: red rooibos, cinnamon, ginger, cardamom, chai spices and a hint of vanilla.
The Dessert Tea Sampler is designed with teas for anytime of day, to go alongside a sophisticated dessert, or in lieu of a sugary indulgence. It is being launched for the holidays, as the perfect tea gift for gourmet tea lovers and anyone looking for a healthy, sweet holiday treat. The Tea Spot's Dessert Tea Sampler includes a card with the descriptions & steeping suggestions for each of the teas. The net weight of the teas in the set is 4.0 oz, and the collection of six teas retails for $26.95. It is available exclusively at The Tea Spot's online tea store at theteaspot.com.
ABOUT THE TEA SPOT: The Tea Spot is a for-profit philanthropic business producing handcrafted loose leaf teas and Steepware® - the tools that make loose tea easy. The Boulder, Colorado-based woman owned and operated company was founded by Maria Uspenski in 2004. A cancer survivor drawn to the health benefits of leaf tea during her recovery, she set forth to modernize the loose leaf tea experience. Her message is simple and powerful: tea in its freshest form renders incredible flavor, unmatched health benefits, and is eco-friendly. The Tea Spot is a Certified B Corporation and ensures that its products uphold clean, sustainable and fair manufacturing standards. The company's model of social entrepreneurship incorporates a culture of giving as it grows: ten percent of every sale made is donated in-kind to cancer and community wellness programs.
###