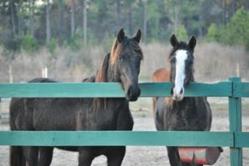 Horseback riding in one of the most scenic areas of South Walton, with more than 13,800 acres of State Forest
Destin, FL (PRWEB) February 25, 2012
Gulf Coast travel website TripShock.com wants travelers to take full advantage of these exciting activities and adventures in Destin. For a full list of different things to do in Destin, visit the Destin page on TripShock.com for more information.
Bicycle Rentals - Ride up and down scenic 98 on Destin's east side of the world's most beautiful beaches. This activity is fun for all, inexpensive, and perfect for an afternoon picnic on the beaches.
Big Kahuna's Water Park - What better way to cool down on those hot summer days than splashing around at Big Kahuna's? Take advantage of over 40 water attractions and the popular adventure park. Take a break from the sand and make a big splash at Big Kahuna's. Buy discounted Big Kahuna tickets on TripShock.com.
Horseback Trail Rides in Seaside- Try something new and thrilling on your next summer vacation to Destin. Horseback riding in one of the most scenic areas of South Walton with more than 13,800 acres of State Forest. This guided tour is great for all ages and interests. With beautiful horses and a very well trained staff, you will be sure to have the time of your life.
Stand up Paddleboard Tour - Down here in the Gulf of Mexico, Destin is really picking up this popular water activity right here in the Destin Harbor. Paddle boarding is an exhilarating experience with the best scenery and even a little bit of exercise. Paddle around the beautiful waters of the Destin Harbor lead by a professional tour guide. Don't miss out on this new and thrilling water sport.
Jet ski/ Waverunner Rentals - There is nothing better than revving up your Jet Ski engine and splashing around the Destin Harbor. If you're looking for fast acceleration and a thrilling adventure, then a Jet Ski is the perfect activity.
Destin Bow Fishing Charter - Bow fishing is a sport that can be fun and challenging at the same time. If traditional fishing has become a bore, try your hand at bow fishing. There will be an experienced captain to guide beginner bow anglers to the very best spots in the Destin pass and the Choctawatchee Bay.
Destin Helicopter Beach Tours - View the shimmering coast of Destin from a bird's eye view on your own private helicopter tour. This experience is wonderful because it truly allows you to captivate the emerald beaches of Destin as well as an overview of the enchanted sea life right below. Not only is this perfect for a first date, but families with children of all ages especially enjoy this activity too.
Mobile Massage Therapy - What better way to take a break from all the action this summer than your own personal massage therapist? Jen Townsend is a well experienced and absolutely wonderful therapist with only the best raving reviews. One of the best attributes to Mobile Massage Therapy is that Jen will come to you. She will meet you at your home, hotel room, or condo. It only takes her a few minutes to set up and the rest of the time you are in a pure and tranquil spa experience.
Destin Snorkeling Excursion- Before your summer vacation comes to an end, make sure to get in one last fun activity with the family. Come and experience the bottom floor of the emerald green waters when you book your snorkeling tour with a professional guided crew. You can feed the fish, find a few sand dollars, or even bake in the sun.
Family Beach Photography - Don't forget to capture your summer memories with a few beautiful shots of the family on the Destin beaches. TripShock.com offers some of the best and top rated photographers with affordable packages and years of experience. Your family could choose to capture the essence of the morning sunrise on the crystal white sands, or even take some shots under the orange, pink and purple rays of the sunset.
About TripShock.com
TripShock! ® is the one and only online travel agency in the Northern Gulf Coast that enables travelers to book tours and activities directly. TripShock! offers trusted reviews from real travelers, photos, videos and other planning tools to help create the perfect Gulf Coast vacation. TripShock! attracts more than 500,000 visitors annually and partners with over 100 activity and lodging providers from Florida to Louisiana.
###