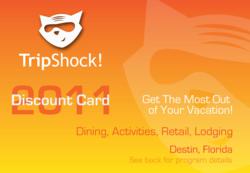 Buy The Destin Discount Card for $19.99 @ TripShock.com and save over $500 in Activity Discounts This Summer
Destin, FL (Vocus/PRWEB) March 28, 2011
Everyone knows that Destin has some of the most beautiful beaches and best restaurants in the south. However, what does a tourist do when they're not stuffing their pie hole with fried grouper or getting burnt on the beach? Thanks to TripShock!, here is a list of the top ten things to do this summer that really rock!
10) Big Kahuna's Water Park – Big Kahuna's Water park is Destin's one and only water park. It's typically open from Memorial day to Labor Day and has a ton of cool slides and rides. It can get crowded during peak season (July and June), but it's worth every dollar if tourists plan their trip on an off day.
9) Sailing Charter – Hire a sail captain and cruise Destin. Fish, snorkel or just relax in the sun as the sail captain guides tourists through paradise. Although this is not the most inexpensive tour available, it's well worth it when looking for a way to explore Destin's emerald green waters with close friends or family.
8) Snorkeling at the Jetties – Snorkeling the Destin Jetties is an exciting and mysterious experience that's great for the entire family. It's tough to tell sometimes what people will see underwater. It can be a dolphin, sea turtle, or even a grumpy old crab. Watch for the pinchers!
7) Waverunner Rentals – Explore the Destin Harbor and The Choctawatchee Bay while traveling at speeds topping 40 mph. Look for dolphins or ride some waves.
6) Pontoon to Crab Island – Every weekend during the summer, locals and tourists alike gather at Crab Island which is a sand bar located underneath the Destin Bridge. Rent a pontoon from a local dealer and get ready to have fun! Snorkel, socialize, frisbee, or just lay around and sip a favorite cocktail.
5) Kayak Fishing Charter – One of the new and cool things to do in Destin is Kayak Fishing. Hire a guide and go in the gulf or bay for a day of fishing. This is not recommended for small children or beginner anglers, but it's a fun and challenging sport and a great experience.
4) Banana Boats – This is for the tourist that is looking for more of a thrill. This is similar to the sport we call "tubing", but the passengers will ride a longer tube that fits up to 6 people. The passengers are pulled behind a boat that is guided around the Choctawhatchee Bay. If the captain is feeling nice, he won't go over any big waves (no promises though).
3) Shark Fishing – Lucky for us, Jaws doesn't swim around Destin too often, but some large and mean sharks still do. Destin offers shark charters that offer the thrill of catching and releasing big game.
2) Parasailing – Don't miss out on the opportunity to fly over 800 feet in the air and see Destin from a bird's eye view. This is an activity that is great for nearly all ages and it's an exciting memory to bring back home.
1) Deep Sea Fishing – Deep sea fishing is the reason why Destin is where it is today. There are several charters available for hire and many of them will fit all budgets one way or another. If a charter is not affordable, go to the pier on Okaloosa Island and rent a fishing pole. It's best to avoid fishing on the beach because the swimmers will give dirty looks. Fishing for human was never on my bucket list anyway!
Save on all these great activities listed above when purchasing the Destin Discount Card for $19.99. The card is available on TripShock.com and local retail outlets in Destin. Discounts range from 15-25% off retail ticket prices. Over $500 in average savings per family.
Looking for more money back? Save an additional 7% on orders from March 28th through April 7th on all tours and attractions site wide, which include other top destinations such as New York City, Hawaii and New Orleans. Use Code APRIL11 during check out to apply the discount.
# # #