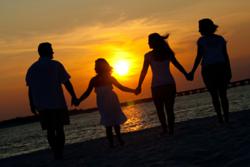 Destin offers a unique landscape with sugar white beaches and breathtaking sunsets making it a popular activity for tourists
Destin, FL (PRWEB) December 28, 2011
TripShock.com announced Monday that Destin beach photography took the crown for the best-selling activity in the Northwest Florida region. TripShock.com sells beach photography packages throughout the region, but does exceptionally well in the Destin area. Destin offers a unique landscape with sugar white beaches and breathtaking sunsets making it a popular activity for tourists. It's also in high demand during the busy summer season so tourists like the option to reserve online through the TripShock.com website.
Tripshock.com contracts ten beach photographers in the greater Destin area and sells their portrait packages on the website for a discounted rate. Customers can save up to 50% on normal package rates through TripShock.com, which makes it an attractive item. Gulf Coast Market Manager, Greg Fisher, claims that having a great selection of photographers in Destin makes all the difference.
"A lot of customers referred our photographers to their friends and family because the deals were good and they got quality photos. We're up nearly 100% from 2010 because of this." says Greg.
Greg mentions that finding great photographers is not easy. Each photographer that is contracted with Tripshock.com must meet certain requirements in order to sell their packages online. Photographers are also required to maintain an online calendar with their availability and manage customer feedback.
Beach Photography is available all year round in Destin so reserve with a qualified Destin Photographer today.
About TripShock!
TripShock! ® is the one and only travel agency that enables travelers to book tours and activities online directly for the Northern Gulf Coast. TripShock! offers trusted reviews from real travelers, photos, videos and other planning tools to help create the perfect Gulf Coast vacation. TripShock! attracts more than 500,000 visitors annually and partners with over 100 activity and lodging providers from Florida to Louisiana.
###