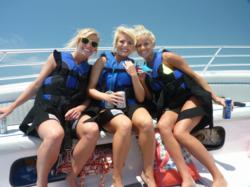 Squeal with delight when they bring you down and touch your toes to those waters.
Destin, FL (PRWEB) February 23, 2012
Travel website TripShock.com recommends these top activities and things to do when visiting Destin in April. For a complete list of attractions and tours, please visit the Destin page on Tripshock.com.
1. Mobile Massage Therapy - A must for people coming to vacation in Destin. Jen Townsend will come to your vacation place to deliver the best massage ever. She travels from Navarre to Panama City with stops anywhere in between. Best of all, for the entire month of April she is giving a 20% discount! April is the best month to get your tan on and being outside during a pampering massage is one of life's best little pleasures. Book now before her calendar fills up.
2. Rent a Street Legal Golf Cart- With so many miles of beautiful beaches it's hard to cover it all on foot. Rent a "Street Legal Golf Cart" and get a free bicycle whe booking online with TripShock. These golf carts can be delivered anywhere from Fort Walton Beach to Destin to Miramar Beach to Hwy 30A. Don't miss out on this unique way to tour the town.
3. Find a Restaurant - Let's talk about eating. After one is done exercising, there tends to be an insatiable hunger deep down. Destin has some of the best eats around and there's nothing better than saving 20% off your bill from some of the top restaurants in the area. While supplies last, Tripshock has 20% OFF Gift Certificates for McGuire's Irish Pub, Harbor Docks and Osaka Restaurants. Buy them for yourself or give them to a friend. You can't lose! The more you eat, the more you save!
4. Dolphin Tours - Looking for a little excitement? Try a Dolphin Watch and History Cruise. If you're not ready to go into the water, perhaps a trip on the water is right for you. Offered several times throughout the day, these excursions deliver the best of both worlds. You get to hear about the local history while cruising along the shore or inland waterways in search of dolphins. Although no one can guarantee you'll see them, Olin Marler Charters has a 99% success rate. The boats have both indoor and outdoor seating for your complete comfort. Pack a picnic (include a little wine or beer) and enjoy a sunset cruise! You'll not soon forget this beautiful way to end the day in Destin. When you book your cruise online at Tripshock.com, you save $2.00 off the ticket price for each adult! (Hint: Check out other ways to save money on this trip by combining it with other attraction purchases thru Tripshock)
5. Try a Dinner Cruise - Dining just outside of Destin? That's right; the only fine dining cruise in Destin and TripShock has it! Fine dining, entertainment, and a full bar all on a 125 ft. yacht gliding on the calm bay water just outside of Destin!!! Now's there's a romantic way to say, "I Love YOU". Gourmet meals and music on the luxurious lower decks and beautiful sunsets from atop the sky deck. You'll cruise the Choctawhatchee for 3 hours while be spoiled rotten. If you don't believe me, just go to here to read the reviews. In April, you can enjoy an Easter Sunday Lunch cruise for $55.00 per person. What a fabulous way to get out of the kitchen!
6. Rent a Pontoon Boat- Who wants to actually go to Crab Island? Yes, that's the place in the water on the north side of the Destin Bridge. There's more than one way to get there. April offers off-season rates for pontoon boats. It's true, you not only get a great way to experience Destin, but you also save money! Tripshock has two pontoon providers and each offers an added bonus. Luther's offers free fishing tackle on a first come first serve basis and Sea Chase offers a free kayak with each rental. Now you can't beat that folks! No experience necessary, they provide pontoon operation instructions on site. It's fun for the whole family. Boats fit up to twelve. Book early, especially on weekend rentals.
7. Private Sailing Charters- If piloting your own boat isn't your thing, take a private sailboat ride. Offered both during the day and at sunset, this is one of the most carefree ways to see the sites. Tripshock offers completely private sailing tours for private parties up to 6. Your captain will take you through the Destin Harbor and provide historic facts along the way.
8. Parasailing - What's the most thrilling thing to do in Destin any time of the year? Well, for some, it's parasailing and April is prime time for parasailing. Imagine the feel and excitement of being suspended in mid-air while floating above crystal clear emerald green waters. Squeal with delight when they bring you down and touch your toes to those waters. There's no better experience than the sun on your face, wind in your hair and the feeling of weightlessness as you sail above the crowds. Don't leave Destin until you've seen it from this amazing viewpoint!
9 Jet Ski Rentals - If you prefer to be in the water opposed to above it, there's only one thing to do; Go jet skiing! You might come across a school of dolphin or spot a sunken treasure. Go to Crab Island or find a secluded spot on Okaloosa Island. Take the adventure to the limit. April jet skis are at off season rates. Don't hesitate, rent a jet ski in April and save.
10. Beach Photography - What vacation would be complete without the beach memories? Before you leave, don't forget to save the moment for posterity! Family or group portraits are a must. TripShock.com's highly skilled photographers will capture the essence of your family's Destin sunrise or sunset experience. Check out packages on TripShock.com today.
About TripShock.com
TripShock! ® is the one and only online travel agency in the Northern Gulf Coast that enables travelers to book tours and activities directly. TripShock! offers trusted reviews from real travelers, photos, videos and other planning tools to help create the perfect Gulf Coast vacation. TripShock! attracts more than 500,000 visitors annually and partners with over 100 activity and lodging providers from Florida to Louisiana.
###