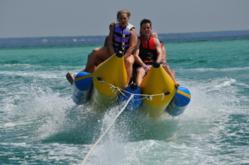 For those families with little experience traveling to the Destin area, it is always useful to know what is worth trying or skipping
Destin, FL (PRWEB) December 30, 2011
Destin is known for its family affordability and fun, making it one of the top destinations in the southeast. However, when families travel to the area, they are overwhelmed with several options for activities and excursions for their kids. For those families with little experience traveling to the Destin area, it is always useful to know what is worth trying or skipping. Here is a quick list of some great things to do in 2012 with kids.
5. Parasailing
Parasailing has quickly become one of Destin's most popular excursions in the past few years. Children that are ages six and up can experience this activity and it's always a winner with parents. Prices may vary during the season, but expect to pay $45-$80 per person. This activity is recommended for ages 6 and up.
Tip: Try asking the parasail provider if there are any discounts for early morning or late afternoon rides. Book online in advance to avoid sellouts for a preferred time slot.
Dolphin tours have won the hearts of children the past 25 years because they are more than just a boat ride, but a life experience. Kids can get an up close look at dolphins jumping and playing in their own habitat. Child prices range from $15-$25 depending on the dolphin tour provider. This activity is recommended for all ages.
Tip: Some cruise companies offer half priced deals for early morning departures. It's not only cheaper, but the morning weather is usually more tolerable in the Summer. Reserving tickets online in advance can avoid time at the ticket window and save a few dollars as well.
3. Snorkeling
The Destin jetties offer a fantastic setting for snorkeling. Kids will have a blast feeding the fish and discovering the ecosystem of the Gulf of Mexico. Although the fish and ocean wildlife is not as abundant as the Caribbean, it's still a great adventure for the family. Prices range from $15-25 for a child's snorkel tour ticket. This activity is recommended for ages 5 and up.
Tip: For big families, a pontoon boat rental may be more convenient and less expensive. The Destin jetties is a short boat ride from the Destin Harbor and is open to the public.
Destin has been known for their bustling fishing industry for decades. Children can take advantage of this past time at an early age. There are several types of fishing charters that can accommodate young children and it's usually all inclusive (bait, tackle and license included). Prices range from $60-80 for a 6 hour party boat charter. This activity is recommended for children 5 and up.
Tip: If the kids are not used to big boats, try to avoid booking trips that are over 6 hours. Party boat charters are the way to go if the family is on a budget and it's about 1/3 of the price of a private charter.
Banana boat rides have become a fast growing activity segment in the Destin area. In 2011, banana boating has been ranked the top activity in Destin according to TripAdvisor.com. It's great for teenagers and younger children alike. Prices range from $30-45 per child with the higher price in the summer season. This activity is recommended for children 5 and up.
Tip: Because there are limited amount of banana boat companies in the Destin area, it is best to reserve online to guarantee a spot ahead of arrival.
About TripShock!
TripShock! ® is the one and only travel agency that enables travelers to book tours and activities online directly for the Northern Gulf Coast. TripShock! offers trusted reviews from real travelers, photos, videos and other planning tools to help create the perfect Gulf Coast vacation. TripShock! attracts more than 500,000 visitors annually and partners with over 100 activity and lodging providers from Florida to Louisiana.
###