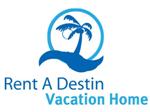 New Technology for Rent a Destin Vacation Home has 20% Off Vacation Rentals
(PRWEB) August 27, 2012
Rent A Destin Vacation Home.com and Rent My Vacation Home .com have teamed up to offer this new technology to vacationers and homeowners. Vacation homeowners are now allowed to list their home for free for 30 days on all 83 of the websites in the Rent My Vacation Home.com network. Vacationers can save the search along with taking advantage of several different technologies.
1. The vacationer is able to email directly the owner so there is no middleman saving the vacationer money.
2. The vacationer is able to email the owner without any middleman so that the savings is passed on to the vacationer.
3. The vacationer can place a bid on a rental even though the vacation homeowner may not accept it in most cases they do.
4. The patented check out system which incorporates credit card technology and insurance combined for one EZ checkout that enables the vacationer to cancel the reservation and the home is covered in case of accidental damage.
The website not only has vacation homes but golf, nightlife, restaurants, blog, video, and transportation. There is a lot more for vacationers on rent a Destin vacation home.com and website as it has more than just vacation home listings.
When all these different systems are combined most of the vacationers report that they are saving approximately 20% on their vacation. Vacation homeowners have reported that they are seeing a 30% increase in the amount of bookings that they receive and since there is no contract they pay only $16 per month and can cancel at any time.
Rent A Destin Vacation Home
Office: 981 Highway 98 E. Ste 3
Suite 3219,
Destin , FL. 32541
Phone 850-502-4652
http://www.rentadestinvacationhome.com
info(at)RentADestinVacationHome(dot)com
Home Office
Rent My Vacation Home dot com
Washington D.C.
1-800-699-7684
http://www.rentmyvacationhome.com
info(at)rentmyvactionhome(dot)com
By "Jay Kalin"