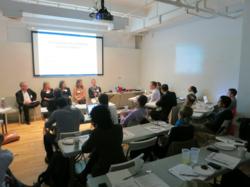 We created Destination Accelerator to help destination marketing professionals explore effective ways in which innovative technologies can be used to attract and engage travelers.
New York, NY (PRWEB) October 04, 2012
Concerned that destination marketing organizations (DMOs) – companies charged with the promotion of travel to specific places – are less integral to the travel ecosystem than they used to be for consumers, Destination Accelerator last week assembled a vital corps of experts and executives from across the communications and travel industries to speak to DMOs about new media and digital marketing.
As most people involved in the tourism industry know, travel is inherently mobile – there are already more than 1 billion smart mobile devices (phones and tablets) in use worldwide – and travelers today have proven very quick to adopt the latest technologies through which they tap into data and services built for them. For example, at present, at least half of U.S. travelers use their mobile devices once they reach a destination to find and book activities, learn about local events and read about points of interest.
But are DMOs up to the task of responding to today's sophisticated travelers?
"In our experience, although some of them are keeping pace, a great many are not," responded Ethan Gelber, one of Destination Accelerator's co-organizers. "That's why we created Destination Accelerator: to help destination marketing professionals explore effective ways in which innovative technologies can be used to attract and engage travelers."
The inaugural workshop, held on September 24 in New York City, was a one-day program structured for two dozen busy professionals with experience juggling destination-marketing challenges. It responded to their concerns by assembling in one place and at one time a brain trust of expert digital professionals with commanding experience in the travel and related spaces.
"Destination Accelerator provided a necessary venue for today's travel marketeer," reported Michelle Blackley, Communications Manager of Niagara Tourism & Convention Corporation. "The wealth of information from expert panelists and notable attendees made for a terrific networking opportunity."
Including two framing keynote speeches delivered by Sree Sreenivasan, Chief Digital Officer at Columbia University and one of Poynter.org's 35 most influential people in social media, and Cees Bosselaar, Business Development and Destination Marketing Specialist at PhoCusWright, the Destination Accelerator NYC program focused attention on four cross-cutting subjects: Positioning and Branding in Niche Markets; Social Media Strategies; Content Production, Curation and Distribution Strategies; and Engaging with External Digital Initiatives.
Moderators and panelists included spokespeople and decision makers from Lonely Planet, Mashable, Travel + Leisure, New York 1, Travelllll.com and TripAdvisor, as well as Approach Guides, Extraordinary Journeys, Find Eat Drink, International Volunteer Programs Association, KSA, ManAboutWorld, Matador Network, Oyster, RW Social, Skift, The Cool Beans Group, The Daily Meal, The Local Way, Travelogged and WHL Group.
In light of very positive feedback from attendees – "I found it to be very informative, interesting and quite inspiring!" said Darryl E-Smythe, President of DreamBrazil Tours – Destination Accelerator is planning its next event, also in New York City, for February 2013.
To learn more about Destination Accelerator and register to receive word about its future undertakings, visit destinationaccelerator.com.
###