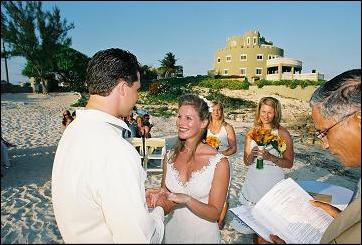 The homeowner took care of all the details and made certain we could just relax and enjoy everyone being there with us. It wasn't a whirlwind one-day event like most weddings - we created a week of very special memories.
AUSTIN, TX (PRWEB) April 10, 2007
Combine the panoramic views and crystal clear waters of top wedding destinations with a single home to tie the knot, hold the reception and honeymoon, and couples have the newest formula for a picture-perfect destination wedding.
According to the Condé Nast Bridal Group, destination weddings have seen a 400 percent increase in the last 10 years. For the most private and intimate destination weddings, brides and grooms increasingly turn to vacation homes instead of hotels.
Vacation rental sites, such as HomeAway.com, make the search easy, listing thousands of castles, villas, and holiday homes ideal for weddings and honeymoons -especially for couples who opt to stay in a central place for the festivities, leaving more one-on-one time to celebrate with family and friends.
"There's nothing better to me than seeing the joy of a bride and groom getting married in front of my home, with their toes in the sand and the waves as the music," says HomeAway owner James Leavitt who has hosted more than a dozen weddings in his luxury Grand Cayman estate. The estate includes accommodations for 18 guests among the castle and guesthouse, two private pools and an aisle made of 300 feet of white sandy beach for the bride to take her first steps to wedded bliss.
In locations as diverse as Mexico and Thailand, nearly one of five couples book destination weddings and are increasingly turning to vacation properties rather than hotels for these top five reasons:
1.One special place. With multiple bedrooms and amenities including private pools, the bride, groom and their guests can enjoy all the wedding and honeymoon festivities in one location.
2.Intimate and personal. While beach destination weddings are the most popular, vacation rentals provide celebration back-drops based on personal tastes and styles. Homes in the wine country, ski towns and the most romantic cities in the world provide alluring alternatives to cookie-cutter ceremonies at hotels. For example, a 15th Century chateau in the French countryside is wedding ready-made with its own chapel.
3.One-on-one attention. When you rent vacation homes, you deal directly with homeowners and property managers who provide tips and recommendations on caterers, florists and photographers that only a local would know.
4.Pristine memories. From a bridal party brunch at the private pool to a bachelor's day of golfing right out the back door, vacation homes allow for pristine memories free from the hordes of guests who share those same facilities at hotels.
5.Save money for the happily every after. Holding all the wedding festivities in one location means saving money on the exuberant fees for multiple venues and hotel rooms. Plus, the one-on-one relationship with homeowners is one of the best perks of renting a vacation home, giving couples the ability to negotiate rates and make special requests. In fact, the owner of a villa in Barbados, Martine Ryan, provided a "honeymoon discount" to one couple, honoring 2006 rates for a 2007 stay.
San Francisco Bay Area-based Yolanda Loh and fiancé Rob Berry searched online for a special place for family and friends to gather for their wedding that they envisioned as the "party of their lifetime."
The search led them to Dali Hale, a Hawaiian plantation-style estate on the north end of Kauai. Situated ocean-side on three-acres of property, the 9-bedroom home provided accommodations for the couple and their closest friends and doubled as the ideal setting for the wedding and reception.
"Our wedding and reception at Dali Hale were magical because of the beautiful home and amazing, breathtaking views," says Loh. "Saying 'I Do' on a cliff several hundred feet above Secret Beach, overlooking the ocean, was a story-book setting for us to celebrate.
"Many of the guests came for the week and stayed with us at Dali Hale. The days leading up the event were spent swimming in the pool, bodysurfing at Secret Beach, playing bocce ball on the lawn, cooking meals in the gourmet kitchen and taking naps in the hammocks," Loh says. "The homeowner took care of all the details and made certain we could just relax and enjoy everyone being there with us. It wasn't a whirlwind one-day event like most weddings - we created a week of very special memories."
About HomeAway, Inc.:
HomeAway, Inc. is the worldwide leader for vacation rentals on the Internet. Each year, more than 100 million travelers visit the HomeAway global marketplace that represents more than 170,000 vacation rental homes across 100 countries. The HomeAway portfolio of vacation rental sites includes HomeAway.com, as well as VRBO.com, CyberRentals.com, A1Vacations.com, GreatRentals.com, TripHomes.com, Holiday-Rentals.co.uk (UK), HolidayRentals.fr, Abritel.fr (France), FeWo-direkt.de (Germany) and HomeAway.es.
Led by an experienced team of online and travel industry experts, HomeAway is based in Austin, Texas and is funded by leading venture capital firms Austin Ventures, Redpoint Ventures, American Capital, Institutional Venture Partners and Trident Capital.
About HomeAway.com:
HomeAway.com, the flagship site for HomeAway, Inc., is the world's most complete vacation rental marketplace, offering the easiest way to find vacation properties online. With real-time calendars and multiple photos, HomeAway connects travelers with the perfect rental, from condos to castles and bungalows to villas. More owners and managers list their properties directly with HomeAway than any vacation rental site in the world, resulting in more than 80,000 listings across 100 countries. HomeAway gives vacationers privacy, space and prices unmatched by hotels. Live the destination.
###