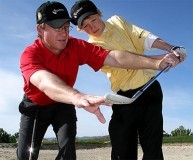 Only $90 Per 2 Hour Private Golf Lesson in Destin with TripShock.com!
Destin, Florida (PRWEB) July 09, 2012
TripShock.com is now exclusively offering Vacation Golf Lessons in Destin, Florida. If purchased online at TripShock.com, customer's will receive the Vacation Golf Lesson Package for as low as $90 (Per 2 Hour Private Golf Lesson) with one of Destin's certified golf instructors.
"The 2-Hours To Better Golf" is a private lesson program offered in Destin/Miramar Beach area. Learn putting, chipping, pitching and full swing techniques.
The Vacation Golf Lesson Package includes:
● Private Instructor
● Range Balls
● Tees
● Video analysis
● Putting Lessons
● Chipping Lessons
● Pitching & Full Swing Instructions
● 5 Key Techniques to Better Improve Golf Game
To book The Summer Vacation Golf Lesson Package for Only $90 Per 2 Hour Private Golf Instruction, please visit TripShock.com today.
About TripShock.com
TripShock! ® is the one and only online travel agency in the Northern Gulf Coast that enables travelers to book tours and activities directly. TripShock! offers trusted reviews from real travelers, photos, videos and other planning tools to help create the perfect Gulf Coast vacation. TripShock! attracts more than 500,000 visitors annually and partners with over 100 activity and lodging providers from Florida to Louisiana.