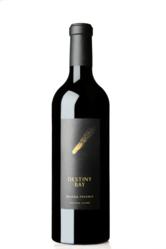 Blue states this wine is, "velvety, luscious and ripe with concentration and intense fruit … stunning and super long."
Waiheke Island, New Zealand (PRWEB) June 14, 2011
Destiny Bay Vineyards announced today that top United States wine critic and Editor-In-Chief of The Tasting Panel magazine, Anthony Dias Blue, awarded Destiny Bay his highest rating ever for a New Zealand red wine. In the June 2011 edition of the influential magazine for the wine and spirits industry, Blue lauded the 2007 Magna Praemia with a rating of 98 out of 100
In his review, Blue states that this wine is, "velvety, luscious and ripe with concentration and intense fruit … stunning and super long." The wine is a blend of 70% Cabernet Sauvignon, 18% Merlot, 5% Cabernet Franc, 5% Malbec, and 2% Petit Verdot. He also rated the 2007 Destinae with a 90 and the 2007 Mystae with a 93.
"This is a noteworthy achievement, not only for Destiny Bay, but for all of Waiheke Island's fine red wine producers" stated Mike Spratt, co-founder of Destiny Bay Vineyards. "For years New Zealand has enjoyed international recognition for producing great Sauvignon Blanc and Pinot Noir. At Destiny Bay we are proud to contribute our share to New Zealand's growing reputation for making world-class cabernet blends. We owe a lot to Waiheke Island wine pioneers like Stephen White at Stonyridge and others around the country who worked tirelessly to produce extraordinary artisan wines and establish New Zealand's credentials in the full bodied red wine category."
Blue acknowledges the above point at the beginning of his review of three Waiheke Island producers (Cable Bay, Stonyridge and Destiny Bay) by noting "After visiting Waiheke several years ago, I became convinced that this small spot is producing some of New Zealand's – and the world's – best reds."
"We are very excited about this rating" stated Sean Spratt, Winemaker and General Manager of Destiny Bay Wines. "Like so many of New Zealand's small producers, we don't make a lot of wine, but we do try to make some of the best. When a critic of Mr. Blue's stature acknowledges one of us, all of our artisan winemakers can take pride in that recognition."
About Anthony Dias Blue
Anthony Dias Blue is the Editor in Chief of The Tasting Panel (Est. 1941), former Wine & Spirits Editor of Bon Appetit Magazine, and Executive Director for the San Francisco Wine and Spirits competition, the largest and most influential international spirits judging event held in the United States on an annual basis. Mr. Blue is the recipient of a 2001 James Beard Foundation Award as well as the 1997 Communicator of the Year Award from the prestigious International Wine & Spirits Competition in London. He is one of the most influential food and wine personalities in the United States. His work in various media is circulated to more than 30 million global consumers and trade members each month. He can be found in print periodicals, on radio in New York and Los Angeles ("Blue Lifestyle Minute"), in bookstores and online.
About The Tasting Panel Magazine
The Tasting Panel magazine (Est. 1941) is the most widely circulated trade publication in the beverage industry, reaching an audience of thousands of key decision-makers every month and growing on an international scale. Regular features include: "Blue Reviews," authoritative scores and reviews of wines and spirits; "Industry Spotlight," highlighting innovators and leaders; "Steven Spurrier's Letter from London," from the world-renowned British authority; "Brief Encounters" and "Brand Spotlight."
About Destiny Bay Vineyards
Destiny Bay is a small, single vineyard, family owned winery that specializes in estate grown and bottled blends of Cabernet Sauvignon, Merlot, Cabernet Franc, Malbec and Petit Verdot. Destiny Bay produces fewer than 2,500 cases per year of their three distinct blends, Magna Praemia, Mystae and Destinae. Destiny Bay is Waiheke Island's first fully certified Sustainable Winery & Vineyard (SWNZ) and is a founding member of The Specialist Winegrowers of New Zealand.
Trademarks
Destiny Bay, the Comet, Magna Praemia, Mystae and Destinae are registered trademarks of Destiny Bay Vineyards Ltd. Other names may be trademarks of their respective owners.
###