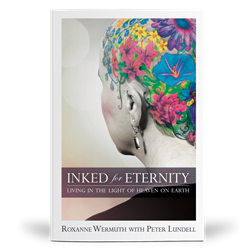 The flowers inked on my head are an expression of what God inked on my heart.
Shippensburg, PA (PRWEB) June 30, 2015
Driven by her ruthless career ambition and Type A personality, Roxanne Wermuth was unwittingly following the path of her abusive, perfectionist father. Yet, it was only after receiving a diagnosis of the most severe form of Multiple Sclerosis that she fell victim to deep depression and the overwhelming desire to take her own life. It was then that one glimpse of Heaven changed everything.
Near death and in a 24-hour coma, Roxanne caught a glimpse of the outskirts of Heaven. Under a deep blue eternity… flowers bloomed, colorful and vivid, beyond human description…eternity put everything into perspective.
After losing her hair due to treatment for her illness, Roxanne—not without reservation— tattooed the flowers of heaven onto her scalp. She says, "The flowers inked on my head are an expression of what God inked on my heart."
Making a radical statement to everyone she meets, Roxanne remains a walking billboard for the beauty—despite the pain—in this world and the world to come.
Whether struggling with relationships, loss, anger, depression, or chronic illness, "Inked for Eternity: Living in the Light of Heaven on Earth" will give readers hope and inspiration to come out strong(er) on the other side of hard times and help to rewrite the future.
This inspirational story will have readers living in the light of God's presence, realizing that afflictions are temporary and what is unseen is eternal.
Interviews, review copies and giveaway copies are available upon request.
Roxanne Wermuth spent most of her career in sales and marketing working for the top radio station in Flint, Michigan: WCRZ 108FM, WNEM TV 5, NBC affiliate station reaching the greater Mid-Michigan area. She then moved on to become the top sales person for a national medical company. The sudden onset of Multiple Sclerosis brought Roxanne's life and career to a crashing halt. She struggled through suicidal depression until her husband challenged her to not give up. She learned to see life differently and to live with a positive, overcoming attitude in the face of pain. Roxanne loves to talk to people about overcoming pain, about heaven, and how her life has changed drastically since she got a glimpse.
Destiny Image, located in Shippensburg, Pa, was founded in 1983 by Pastor Don Nori, Sr. It seeks to accurately represent authors who have a call to share God's present word to His people and to make these authors easily accessible to the Christian body around the world in every form of media possible.
For press inquiries, interviews and review copies:
Brad Herman
(717) 532-3040 x172
bherman(at)norimediagroup(dot)com