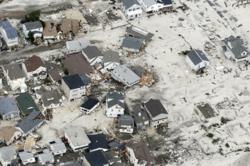 As people evaluate their damages and start to rebuild, DE-Taxes, Inc. highlights some key items that may help entitled taxpayers take advantage of disaster-related tax considerations.
Wilmington, DE (PRWEB) November 21, 2012
"Several areas have been noted as federally declared disasters, which allows taxpayers to claim their losses on their 2012 tax returns when they file in the coming months or to amend their 2011 tax returns to file the claim," explained DE-Taxes Owner, Don Rice. "By amending your return, you can get your refund for the loss sooner, but be sure to compare your tax situation and adjusted gross income for both years to determine whether it is to your tax advantage to claim the loss in one year rather than another."
Rice notes steps for taxpayers to take now or after suffering any kind of casualty loss:
1. Document your loss: As soon as you are able to do so, take photographs or videos of the damage to your property, as well as any repairs made to your property. Be sure to keep receipts for any repair or clean-up work; however, know that costs for repairs or clean-up cannot be deducted on a tax return. Where these expenses are helpful to note is when determining any decline to the fair market value of the property, as long as the expenses are incurred to restore your property to its original condition.
2. Know what you should file – and how: You can claim your casualty loss on Form 4684,Casualties and Thefts. You must be able to itemize deductions on your federal return to be able to claim your loss.
3. Do not wait to file a timely insurance claim: If your property is covered by insurance, you should file a timely insurance claim for reimbursement of the loss. The IRS generally limits your allowed loss to the amount of loss after any insurance reimbursement you got or should have gotten, so file your insurance claims early.
4. Spend your insurance reimbursement money wisely: You have two years to replace any damaged, destroyed, or lost property. If you meet this time requirement, your insurance reimbursement will not be taxable, even if it exceeds your basis in your property. However, if you do not purchase property that is similar or related in service or use to the property you are replacing, part of your reimbursement may be taxable. If the property you are replacing is your home, you may be able to exclude up to $250,000 (or $500,000 if married filing jointly) for your taxable gain. If you are in a federally declared disaster area, the deadline to replace property is extended to four years. Be aware of the guidelines that apply to your situation and plan accordingly.
5. Keep track of the payments you receive: Payments you receive may be excluded or included in income, if restrictions were attached regarding how you spend the money or if you received the payments as part of relief provided to individuals in a federally declared disaster. These payments also affect the calculation of allowable casualty loss. Keep records of all types of disaster relief payments from organizations such as FEMA, documentation or checklists and any Small Business Administration appraisals.
"The rules governing casualty losses are confusing and vary based on the disaster classification for your area," advised Rice. "After a disaster, taxes and financial issues are likely the last things on your mind, but once you start to get organized, it's a good idea to ensure you get all of the benefits and tax deductions you deserve – especially when finances will be so critical. Talk to one of our knowledgeable tax preparers to ensure you use all of the rules available to help you."
For additional information on claiming casualty and theft losses and guidelines for replacing identification and documents, consult one of the tax professionals at DE-Taxes TODAY.
About DE-Taxes, Inc.
DE-Taxes is comprised of a dynamic team of Delaware tax services professionals who are committed to providing a premium service at a competitive price. DE-Taxes has been servicing the Tri-State region for over 25 years. We are committed in providing our clients a unique experience for all tax service needs.
For more information, visit http://www.DE-Taxes.com or call (302)477-1108. DE-Taxes can also be found on Facebook and Twitter.