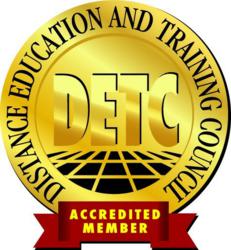 DETC has partnered with MaxKnowledge to help our member institutions improve their staff and institutional performance.
Washington, D.C. (PRWEB) October 15, 2012
Powered by MaxKnowledge, the DETC Online Training Center offers over 100 fee-based courses and a variety of free resources, including self-paced tutorials, higher education lessons, live webinars and a social learning platform for knowledge sharing and collaboration.
The Online Training Center offers DETC's long-standing training offerings as free self-paced tutorials:

Preparing for DETC Accreditation
DETC Business Standards
DETC Evaluator Training
In addition, the Online Training Center offers a free course on Developing a Successful Online Program sponsored by MaxKnowledge and McGraw-Hill Learning Solutions. Facilitated by Dr. Robert Roehrich, a seasoned career education executive, this course describes the phases of launching an online program and strategies for successful implementation.
The Online Training Center offerings include a series of Faculty Development courses exclusively designed and developed for online instructors. These training courses focus on instructional strategies and techniques to enhance student learning and retention in the online environment.
"DETC has partnered with MaxKnowledge to help our member institutions improve their staff and institutional performance," said Michael P. Lambert, Executive Director of DETC. "This partnership represents one more value-adding membership service provided by the DETC to its stakeholders. We are also delighted that MaxKnowledge shares our goal in enhancing educational quality and student outcomes through the power of teaching at a distance. This partnership represents one more reason why DETC is the leading accrediting association for the distance learning community."
"We are very excited to support DETC and distance learning institutions in their continuous improvement efforts," said Dr. Amir Moghadam, CEO of MaxKnowledge. "We are honored to have the opportunity to help enhance student success at institutions that are constantly striving for the highest level of educational excellence."
The Online Training Center is fully live at http://www.detctraining.org.
About DETC
The Distance Education and Training Council is a non-profit [501 c 6] educational association located in Washington, D.C. The Council was founded in 1926 to promote sound educational standards and ethical business practices within the correspondence field. The independent nine-member Accrediting Commission of the DETC was established in 1955; shortly thereafter it gained the approval of the U.S. Department of Education as the "nationally recognized accrediting agency" under terms of Public Law. The Council for Higher Education Accreditation (CHEA) also recognizes the Accrediting Commission. With its 80-plus years of history and its highly refined and federally recognized accreditation program, DETC offers distance learning institutions the most current, relevant and practical services for the 21st Century. For more information about DETC, visit http://www.detc.org.
About MaxKnowledge
MaxKnowledge is the chosen employee training provider for over 1,300 career colleges and universities representing both traditional and online institutions. With a decade of experience and over 100 online courses, MaxKnowledge has become the leading provider of professional development and continuing education opportunities for career college personnel. Over 25 educational associations have partnered with MaxKnowledge to provide online training services to their member schools. The Center for Excellence in Education (CEE), MaxKnowledge's strategic partnership with the Imagine America Foundation, provides turnkey employee development solutions with a proven return on investment as independently reported by the ROI Institute®. MaxKnowledge is also the proud creator of The Career College Lounge, an online learning community of over 35,000 career college professionals. For more information about MaxKnowledge, visit http://www.maxknowledge.com.