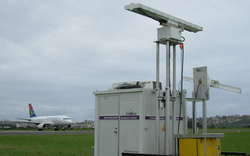 The MERLIN technology is proven and can be integrated today into commercial airport operations to better protect aircraft, pilots and the flying public
Panama City, Florida, USA (PRWEB) February 5, 2009
DeTect, Inc. , the world leader in development, manufacture and delivery of bird radar systems, has issued a "Bird Radar" Fact Sheet (attached) to clarify and correct recent alleged FAA misstatements about bird detection radar systems that have appeared in news articles in the aftermath of the US Airways flight 1549 bird-related incident.
"The FAA statements to the media that bird radars are not ready for operational use and will take years more research, simply are not correct," said Gary W. Andrews, DeTect's General Manager and CEO. "No one from the FAA has ever seen one of our MERLIN systems in operation to my knowledge," he continued. DeTect has over 40 of its MERLIN Avian Radar Systems in operation worldwide which includes systems used for operational birdstrike risk detection, tracking and alerting at commercial airports, military airfields and space launch facilities, with real-time bird activity displays used by airfield managers, bird control staff and air traffic controllers. "The MERLIN technology is proven and can be integrated today into commercial airport operations to better protect aircraft, pilots and the flying public," Mr. Andrews stated.
About DeTect
DeTect (http://www.detect-inc.com) specializes in remote sensing technologies and systems for aviation safety, security surveillance, environmental management and wind measurement with projects worldwide. The company is a closely-held U.S. corporation headquartered in Panama City, Florida, USA with divisional offices in the U.S and Canada and representative offices in over 80 countries worldwide.
Contact:
Gary Andrews
DeTect, Inc.
850-763-7200
# # #