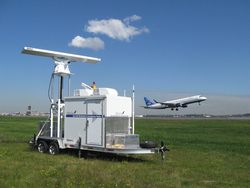 These are the key questions that have yet to be answered nearly a year after the US Airways Hudson River birdstrike-caused crash
Panama City, Fla. (PRWEB) October 27, 2009
DeTect, Inc. will host the Aviation Week Birdstrike Roundtable today at the National Press Club in Washington, D.C. This meeting assembles end users of Bird Radar and Foreign Object Detection (FOD) systems from around the world including airlines, airports, pilots and controllers for small focus group meetings to discuss how these technologies can be integrated into commercial airport operations to improve aviation safety.
"Bird radars have been successfully used by the military and NASA for tactical aircraft-bird strike avoidance since 2003 under operational procedures that have proven effective at reducing strike rates," said Gary Andrews, DeTect's CEO. "Application to the commercial airport environment however is procedurally more complex due to multiple runways being in use simultaneously and heavier aircraft traffic loads," he continued.
The meeting will address risk management issues such as who are the end users at commercial airports, what formats are required for data from the systems, and response scenarios when a system issues a strike warning.
"These are the key questions that have yet to be answered nearly a year after the US Airways Hudson River birdstrike-caused crash," commented Mr. Andrews, "and DeTect hopes to contribute to advancing use of the technology by sponsoring this event." A White Paper to the industry will be issued by Aviation Week after the meeting summarizing the group's findings and recommendations.
DeTect (http://www.detect-inc.com) is the US-based developer of the MERLIN™ Aircraft Birdstrike Avoidance Radar system, the only bird radar system in tactical use for real-time bird-aircraft strike avoidance. MERLIN was originally developed for the US Air Force and NASA and is the most proven and widely used bird radar technology in the world with over 50 radars operating in the U.S., Canada, Europe, Africa and New Zealand for military and commercial aviation safety and for bird control applications.
###