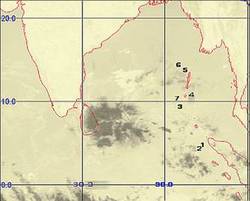 A New Paradigm for Detecting Tsunamis by Satellites
Salisbury, MD (PRWEB) July 21, 2010
Detecting tsunamis is a vital task in order to be able to issue urgent warnings to the coastal population to evacuate. At present the only method used is the DART method, which has a success rate of only 25%. Many evacuation orders are issued without a tsunami's actual occurring.
A team of computer scientists at Chulalongkong University, Bangkok, Thailand has discovered a new method to detect a tsunami at its birth by examining the infrared radiation emitted by the erupting tsunami at its epicenter. They used the Chinese meteorological satellite FY-2C which is geostationary above Thailand, and was able to detect the tsunami radiation originating from submarine earthquakes. The accuracy is very high (almost 100% in theory) and is more economical compared to present methods.
Team members are: F.C.Lin, K. na Nakornphanom, K. Sookhanaphibarn and C.Lursinsap.
The study is published in International Journal of Geoinformatics, Vol.6 No.1, March, 2010, p.19-30.
Dr. Lin is Professor Emeritus of the University of Maryland System.
###