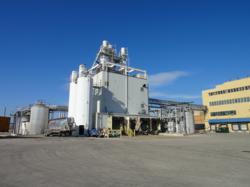 The most promising detergent exporting opportunities will be in "the developing economies of Eastern Europe. Eastern Europe also was considered a good location for new manufacturing plants."
Hamilton, NJ (PRWEB) June 04, 2013
International Process Plants announces a detergent plant available for immediate sale. The entire formulation plant is for sale, along with the filling and packaging line. The plant consists of a 150 million lb/yr formulation, filling, and packaging line for gel detergent products.
According to a Highbeam Business industry report, "the soap and detergent industry is an international industry, and many of its participants compete on a global basis. Analysts, noting a firm correlation between a nation's standard of living and its usage of soap and detergent products, expected the market to continue growing in industrialized as well as developing nations." According to the report, the most promising detergent exporting opportunities will be in "the developing economies of Eastern Europe. Eastern Europe also was considered a good location for new manufacturing plants."
The detergent line received major upgrades in 2000, including the installation of a depalletizing robot and a new color system. GE PLCs are used for process control. The formulation and filling lines can be operated by a staff of six people per shift and one maintenance person on the day shift. While the previous owner used the facility to produce automatic dishwashing detergent, the process technology is functional for companies seeking to produce any kind of gel detergent product.
This plant's detergent formulation line is centered around two 1,600 gallon soap crutchers. The crutchers have the capability to accurately feed up to seven liquid and two solid raw materials. Three stainless steel soap tanks provide storage for up to 420,000 lbs of product. The color mix system feeds an in-line system that adds colors and fragrances to the finished product at the immediate filling operation of the filling and packaging line. The filling line runs at approximately 20 cases per minute depending upon the bottle size, and includes bottle guides for four sizes, 45, 65, 75 and 120 ounces.
More information about all of the manufacturing plants available from IPP can be found at http://www.ippe.com.
About International Process Plants
International Process Plants (IPP) is a self-funded global buyer and seller of surplus manufacturing facilities, process plants, industrial real estate, and individual equipment that are no longer needed by their original owners. 80% of IPP's purchases are from multinational companies and 20% are bought in distress situations. IPP's business model provides the opportunity for companies to acquire such assets at competitive prices and in a fraction of the lead time of building or buying new. IPP also serves as an outlet for companies looking to divest surplus assets quickly in a fiscally and environmentally conscious manner. IPP currently owns 17 complete plant sites including the land, buildings and equipment, 85 complete processes to be moved and operated elsewhere and a stock of 30,000 major pieces of process equipment. One of the largest firms in this business, IPP operates globally from its headquarters in the US and its company-owned operations in 16 other countries. In business for over 35 years, IPP serves 160,000 clients in the chemical, agrichemical, petrochemical, oil & gas, paper, plastic, power generation, metallurgical, fertilizer, artificial fiber, pharmaceutical and food industries. Learn more at http://www.ippe.com.