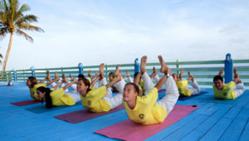 The Gracious Living Yoga and Food Cleansing Retreat which will take place in May 23-26th, 2013.
Nassau, Bahamas (PRWEB) May 30, 2013
Based on the principle that detoxification allows us to feel more alive, the Sivananda Yoga Retreat in the Bahamas is proud to announce its Gracious Living Yoga and Food Cleansing Retreat which will take place in May 23-26th, 2013.
This 4-day cleanse is designed to detox the body in a gentle way with no feeling of deprivation. In the program, students will be using delicious natural wholefoods, juices, smoothies and herbal teas, all combined with yoga, nutrition discussions, and relaxation. Practitioners will be guided along your detox journey and receive a menu ensuring that the dishes offer enzymes, fiber, and antioxidants to initiate a cleansing process and facilitate metabolic toxin removal. Along the way, attendants will experience the recalibration of your taste buds and appetite, and will start the digestion healing process.
The program is presented by Grace Van Berkum, a Registered Holistic Nutritionist, Sivananda Yoga Teacher, Certified Personal Trainer, and raw, vegan recipe creator. She is passionate about the healing powers of live foods, the power of Yoga and positive thinking, and the power of connecting to nature. This has influenced her to create Gracious Living Yoga Empowerment Retreats in Nicaragua, and around the world, inspiring people towards healthier lifestyles and living their best life possible.
The Sivananda Ashram Yoga Retreat provides an immersion experience into the daily practices of a yogic lifestyle. More than just a yoga center, the Yoga Retreat offers teachings derived from the deeply-rooted Hatha Yoga traditions of a renowned lineage. All of the Ashram practices are geared toward the development of inner peace for a more harmonious world. Established by Swami Vishnudevananda in the name of Master Swami Sivananda, the Ashram presents a balanced experience of Raja Yoga, Karma Yoga, Bhakti Yoga and Jnana Yoga. The daily schedule includes meditation, pranayama (yogic breathing practices), asana (yoga postures) and study.
Located across the bay from Nassau, on one of the finest beaches in the world, the Sivananda Ashram Yoga Retreat is an island paradise with a tropical garden, crystal clear water and pure white sands - a true sanctuary of peace and natural beauty. Recognized among world Yoga Retreats, the ashram offers year-round programs presented by world renowned speakers, as well as certification courses on various yoga related topics through which you can expand your knowledge, gain a new skill and get certified while enjoying a joyous yoga practice and blissful relaxation. The retreat center also offers year-round Yoga teacher training programs, [Ayurveda programs, and raw food retreat s.
For more information, please call 1-866-446-5934 or visit sivanandabahamas.org.
"Swami Sivananda of Rishikesh taught Yoga and Vedanta, which came to the West through his many disciples like Satchidananda, Vishnudevananda, Ventakeshananda and Jyotirmayananda. The Sivananda Yoga-Vedanta centers founded by Swami Vishnudevananda teach regular programs on Yoga-Vedanta and with references to Ayurveda as well. I have done many programs with this organization and find it to be the best Yoga training group in the west." -Dr. David Frawley