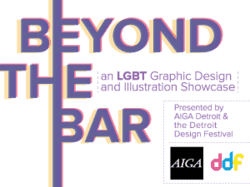 Detroit Design Festival (DDF) is a crowd-sourced design festival developed to showcase the talents and abilities Detroit's creative community.
Detroit, MI (PRWEB) September 08, 2011
AIGA Detroit presents Beyond the Bar, an LGBT graphic design and illustration showcase.
Despite the vast offerings of LGBT Americans to the applied arts world, so many continue to stereotype the careers of this unique subculture. Now is the time to step-up and show Metro Detroit all that local LGBT Americans have contributed to the Graphic Design world. Welcome to 'Beyond the Bar', Detroit's First ever LGBT graphic design showcase.
For this showcase, Metro Detroit's LGBT Graphic designers/illustrators can submit their favorite design piece. Maybe it's an awesome website or logo created - whatever the work - take this opportunity to show the local area your contribution to the graphic design field. Chosen pieces will then be showcased during Detroit Design Festival, to debut at an opening reception party.
HOW TO SUBMIT:
Please email a PDF (lastName_FirstName.PDF) of your chosen graphic design/Illustration to aharvilla(at)detroit(dot)AIGA(dot)org, by September 10th, 2011. Submissions must include full name, email address and phone number within the email submission. After each piece is reviewed, chosen designers will be contacted with installation steps.
Both Professionals and students are encouraged to submit. Submissions do not need to have been previously published, but must be applicable to the professional and applied arts world.
SUBMISSION RULES:
The committee and judges reserve the right to disqualify, any entry that does not meet the criteria below:
All work must be a graphic design or illustration piece and applicable to the professional and applied arts world. This includes, but is not limited to:
PRINT:
Logos
Letterheads/business card design
Informational posters
Information graphics
Magazine/book layout
Annual/Corporate Reports
T-Shirt Graphics
Billboard Design
DIGITAL (must submit printable screenshots):
Website/Interface design
Web banners
Smartphone App Design
Presentation Design
ILLUSTRATIONS:
Magazine/book illustrations
Album Art
Murals
Questions can be emailed to Alex Harvilla (aharvilla(at)detroit(dot)aiga(dot)org) or posted on the Facebook event page.
A submitted work does not guarantee entry into the show. Judges and a committee of design professionals reserve the right to disqualify any entries that do not reflect the intention of the showcase.
ABOUT AIGA DETROIT:
AIGA Detroit has been a chapter of the national AIGA organization since 1986. The Detroit chapter has 475+ members with a network reaching out to the entire Michigan creative community including: designers, educators, art directors, web developers, printers, illustrators, photographers, artists and students. Through events, programs and initiatives, AIGA Detroit is demonstrating the value of design to businesses and the power of design in our culture. The Detroit Chapter is committed to the continued growth of an already vibrant, creative community and a rich design history here in Michigan.
Click here to learn about the benefits of becoming a member.
ABOUT THE FESTIVAL:
Detroit Design Festival (DDF) is a crowd-sourced design festival developed to showcase the talents and abilities Detroit's creative community.
Over the eight days and nights of DDF—September 21 through September 28—a variety of Design Happenings will take place across at venues across the city of Detroit. The types of happenings will include studio tours, panels and roundtable discussions, fashion shows, and art wars to name a few.
Detroit Creative Corridor Center established the Detroit Design Festival to connect creative practitioners with one another, expose them to new markets and consumers, and of course put on display the creative talent that will help Detroit become a global center of creative innovation.
# # #