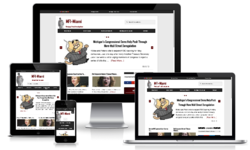 Motor City Mobility focused on our business goals, then implemented them into an attractively designed site that adapts to smartphones, tablets, PCs--you name it.
Detroit, MI (PRWEB) May 09, 2013
Two months. That's how long it took for the owner of mortgage fraud investigation company, MFI-Miami, to see a 30% increase in smartphone and tablet traffic to his recently redesigned website. While sudden jumps in a specific site's traffic may cause cynical speculation of bought back-links or leaked celebrity video, Dibert asserts the reasons for his website's rapid increase of popularity lies not in gimmicks, but in what has become the two most important aspects of Web design: Accessibility and response.
Steve Dibert, owner of MFI-Miami, said that the primary goal behind redesigning his website was "to make sure that our articles, stories and business services were accessible to as many people as possible."
Savvy, and certainly reasonable. But reason enough? Maybe not.
Today's Internet user has become ever more mobile. In fact, according to a recent Pew Internet Research study, more than half (55%) of U.S. adults who own a cell phone, use that phone to go online. That number is a noteworthy increase from the 31% who responded likewise as recently as 2009. The rising number of people using non-desktop devices for internet access, does not bode well for website owners not willing to redesign to remain relevant. In addition, a recent report by comScore, a leading internet marketing analytics company, shows that U.S. smartphone ownership is growing rapidly, up 9 points to 58 percent of the market during the three month period of study ending in March.
Through many of his own experiences with browsing non-optimized websites from his phone or tablet, Dibert learned that it isn't just about how many people are linking to his site, the number of "shares" or "likes" an article gets on Facebook, but more importantly how the website appears once it arrives on the viewer's device of choice.
"There are a lot of different ways people access the Internet these days," he said. "It's not just someone sitting at their desk, bringing up my site on a 19" monitor. Just from my own personal experiences, I know a lot of websites don't display very well on my phone; they just weren't designed to. I didn't want that for my viewers, I wanted to make it much easier for them. To continue being competitive, I had to hire a Web designer who understood the technological shift taking place."
Enter Motor City Mobility.
Dibert connected with Motor City Mobility, the Metro Detroit based web design firm specializing in responsive web design. This design approach called responsive web design, allows Web users the same access to the same content and features, regardless of what device they are using. It's also Google's recommended website configuration.
"The number of connected devices is only increasing. When designing websites for our clients it is our responsibility to build sites that are flexible, that respond to devices of all sizes. Responsive web design starts and ends with the most important aspect of the site, the content," explains Cam Cecchini, owner of Motor City Mobility.
It is widely thought to be the future of Web design, and Motor City Mobility is on its leading edge, creating solutions for a number of local and out-of-state businesses.
"Motor City Mobility focused on our business goals, then implemented them into an attractively designed site that adapts to smartphones, tablets, PCs--you name it. Sixty days later, we're up 30% in those same markets. That's pretty dynamic."
You can learn more about MFI-Miami at http://mfi-miami.com or by calling 1-888-737-6344.