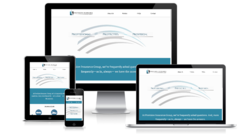 "I didn't want to waste company dollars building a website that wasn't mobile accessible, so I knew I had to find a Web designer who was ahead of the curve."
Southfield, MI (PRWEB) May 30, 2013
It's an age-old adage that "change is the only constant". The truth of that principle has never been more evident, then when monitoring the current trends of internet access. Which is exactly what Provision Insurance Group owner and founder Britton Steele began doing the moment he decided his brokerage firm would benefit from a more significant online presence.
"I'm an insurance agent," said Steele. "So I'm not usually prone to just jumping into something without doing some research."
What he soon discovered was that perpetual advances in the mobile technology field have now forced a fundamental shift in the Web design industry. With the percentage of consumers accessing the Web through various mobile devices skyrocketing, Web designers and site owners themselves are scrambling to keep pace. How fast is the industry changing? In February, networking giant Cisco, released a report stating that mobile internet usage will continue to grow at an astounding rate of 66% per year, over the next five years.
It follows that, as mobile internet usage continues to grow, the average screen size the Web is viewed upon shrinks. That is creating a content compatibility problem for many, if not most, websites created during the passing Desktop Era. The shift from desktop computers and their large, standard-sized monitors has led many websites, some built only a short time ago, to become essentially unusable (or at the very least, unsightly) on the latest mobile devices.
Steele says what he read made him extra cautious as to whom he would hire to build the Provision Insurance website.
"It was eye-opening and a little intimidating at the same time. I didn't want to waste company dollars building a website that wasn't mobile accessible, so I knew I had to find a Web designer who was ahead of the curve."
During his search for solutions, Steele came across several articles touting a design technique called Responsive Web Design, or RWD, as a cure for the spreading plague of incompatibility. Sites built using this cutting-edge approach automatically adapt their content to achieve an optimal user experience, regardless of device, browser, screen size or orientation.
After carefully considering his options Steele chose Metro Detroit based, Motor City Mobility, and it's owner, Responsive Design expert Cam Cecchini to design and develop the Provision Insurance Group website.
Cecchini says he's been getting more and more calls from website owners wanting to rebuild using RWD, and that demand will only increase.
"The Web is and always will be flexible; the number of web enabled devices will only continue to grow. If a website isn't responsive, I'd have a hard time calling it a website. It's as simple as that. You have to be viewable, to be viable."
You can learn more about Provision Insurance Group at http://provisionagency.com or by calling 1-248-262-7362.