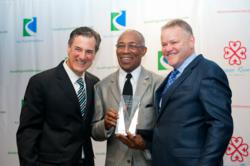 "Guests, honorees and members of the Host Committee all spoke to me about their encounters with friends or family that have experienced addiction. All agreed that comprehensive treatment is the solution," said Per Wickstrom
Detroit, MI (PRWEB) June 11, 2013
On Saturday, June 8, 2013, Ford Field's Hall of Legends welcomed over 250 guests for A Forever Recovery and Mack Alive's 2013 Salute to Detroit Hometown Heroes. Four metro Detroiters were honored during the fund and friend raising event for Mack Alive's Partnership for a Drug Free Detroit.
Honorees were chosen for their community service and commitment to improving the quality of life in Detroit, while bringing greater awareness to substance addiction solutions.
2013 Honorees:
Lem Barney, former Detroit Lion and NFL Hall of Famer
Greg K. Monroe, Detroit Piston and founder of Greg K. Monroe Foundation
Alberta Tinsley Talabi, State Representative and Mack Alive founder, and
Michael Curis, Sr., president Curis Enterprises
The event was hosted by Detroit Lions play by play announcer and Fox 2 sports anchor Dan Miller along with the senior editor of the Michigan Chronicle, Bankole Thompson.
Per Wickstrom, event sponsor and A Forever Recovery and Best Drug Rehabilitation founder, was inspired by the positive response to the inaugural event's message: Drug and alcohol abuse and addiction is a solvable problem.
"Guests, honorees and members of the Host Committee all spoke to me about their encounters with friends or family that have experienced addiction. And all agreed that comprehensive treatment is the solution – many were thrilled to say treatment had been successful and positively changed the addict's life," said Wickstrom. (See video)
Host Committee attendees included former Detroit Lions Herman Moore, Rob Rubick, Corey Schlesinger, Mel Farr and Ron Rice; eight-time World Champion boxer Tommy "The Hitman" Hearns; former Detroit Piston coach and player Ray Scott and Ricky Bryant, former New England Patriot.
Detroit City Councilman Andre Spivey thanked Wickstrom for hosting the special evening and presented him with a "Spirit of Detroit Award" for his continued fight against addiction and his ongoing effort to educate today's youth.
Wickstrom commented, "There is nothing greater than having a positive effect on our community's children – they are the most important investment we can make to ensure our society's future is great. As a group, we must educate our kids daily about the dangers of addiction, help heal those that are experiencing the complications of drug or alcohol abuse and give children the ability – the tools – to stay strong and stay off drugs and alcohol. Working with children at the earliest age is the only way to truly reduce addiction in our society."
About Mack Alive's Partnership for a Drug Free Detroit
The Partnership for a Drug Free Detroit began as "The Detroit City Council Task Force and Policy Panel on Substance Abuse Prevention" in 1995. Through unprecedented community collaboration and citizen involvement the Task Force transitioned into today's Partnership for a Drug Free Detroit. The Partnership for a Drug-Free Detroit, a comprehensive coalition of stakeholders committed to making Detroit a drug-free community, has a primary purpose of reducing substance abuse in the city of Detroit. Serving as a catalyst for members of the community to actively participate in changing attitudes, making healthy choices and fostering an environment, which promotes healthy living. Persons in recovery and those working to prevent addiction agree, a true renaissance for Detroit cannot occur until a unified effort to is made to prevent substance use/abuse and provide treatment to those citizens in need are met. Visit their website.
About The A Forever Recovery
A Forever Recovery program is an open-ended drug and alcohol treatment program that gets clients off to a great start and gives them a solid foundation in recovery they can believe in. Not every treatment methodology works for every client. Some people are very receptive to 12-step principles, whereas others are more comfortable with faith-based treatment. Cognitive approaches have excellent success, whereas others thrive within a more holistic approach. A Forever Recovery allows clients to choose from a wide range of recovery methodologies, coupled with Moral Recognition Therapy (MRT), to achieve success rates unmatched in the addiction treatment industry. The bottom line is that there is no single therapeutic approach to recovery that works for everyone… until now. Visit AFR website.
About Best Drug Rehabilitation
Best Drug Rehabilitation treatment centers are based on the philosophy that successful recovery from addiction must be based on teaching clients a complete, healthy way of life. Clients learn to confront and take responsibility for their choices and behaviors, face and handle the root causes of their addiction, and learn healthy communication skills so they can regain control of their lives and their environment. Withdrawing from drugs and detoxifying the body are just the beginning. Not only must the body be freed from addiction to substances, but the mind and spirit must also be cleansed. Best Drug Rehabilitation centers offer superior, cutting edge treatment programs geared to the personalized needs of each client, significantly increasing the likelihood of long-term success. Visit Best Drug Rehabilitation's website.