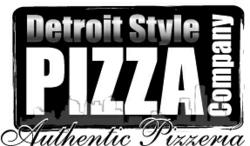 DETROIT,MI (PRWEB) December 31, 2012
Detroit Style Pizza Co. offers tips to prepare kitchens for making gluten-free food in restaurants and homes, so those with celiac disease, gluten allergy and gluten sensitivity can safely enjoy delicious recipes without fear of pain or discomfort. It has been estimated that one in every 133 people have celiac disease and that more than 20 million people in the United States – or seven percent of the entire population – suffer from gluten sensitivity. It only takes 1/64 of a teaspoon of gluten to cause small intestinal inflammation; and as such gluten contamination is a common problem, especially in restaurant kitchens where many different dishes are rapidly prepared.
World Champion Pizza Maker Shawn Randazzo, Detroit Style Pizza Co. Founder and President, was inspired to craft his own gluten-free pizza recipe after his wife, Keri, was diagnosed with celiac disease in January 2012. He says gluten-free recipes aren't enough to maintain a gluten-free lifestyle or to cater to customers who follow a strict gluten-free diet. It is paramount that kitchens are properly prepared to eliminate any possibility of gluten contamination, so Randazzo offers the following tips he incorporates into his own kitchens to ensure gluten-free food preparation.
How To Prepare A Gluten-Free Kitchen

Know your ingredients: Understand what ingredients contain gluten and what ingredients are gluten-free. Do your research online, or download a smartphone app to assist you with gluten-free shopping.
Label gluten-free food: Apply easy-to-see gluten-free labels to all gluten-free ingredient containers so you can quickly grab gluten-free ingredients.
Separate storage: Store gluten-free ingredients in a separate location to avoid gluten contamination and make preparation a breeze. Keep ingredients tightly wrapped or sealed to avoid airborne or spill-related contamination.
Separate prep areas: It's critical to prepare gluten-free foods in a separate area from gluten foods, because even miniscule crumbs can contaminate a recipe. Be aware that gluten flour particles can become airborne, so keep your prep areas far enough apart to avoid airborne contamination.
Separate utensils and containers: Use separate utensils and containers for gluten-free food preparation.
Separate cleaning supplies: Use separate washcloths, water, cleaning solutions, and solution containers to clean gluten-free prep areas to avoid transferring gluten.
Wash hands frequently: Unwashed hands can be a source of gluten contamination, so always wash hands or change gloves between prep steps. Be aware that airborne gluten, such as flour dust, can attach itself to aprons and clothing and be transferred to gluten-free ingredients.
Prepare gluten-free foods at different times: Don't prepare a gluten recipe alongside a gluten-free recipe. Prepare the gluten-free recipe first, if possible. Restaurant kitchen staff, who prepare multiple orders at the same time, should designate a gluten-free prep area that's far from the gluten prep area.
Educate staff: Restaurant staff should understand the proper way to select gluten-free ingredients and to prepare gluten-free foods. Staff should be well versed in preventing transfer of gluten on their hands and clothing, and they should be able to explain how the restaurant ensures gluten-free food preparation to customers.
Those who suffer celiac disease, gluten allergy and gluten sensitivity make a lifelong commitment to restrict dietary intake of gluten, a protein present in wheat, barley and rye. Detroit Style Pizza Co. offers a gluten-free pizza featuring dough that's soft on the inside, crispy on the outside and as delicious as the pizzeria's other award-winning pizzas. The gluten-free pizzas are available at Detroit Style Pizza's two Metro Detroit locations and nationwide via mail order.
For more information, visit http://www.DetroitStylePizza.Co.
Detroit Style Pizza Co. serves the award-winning Authentic Detroit Style Pizza in its two Metro Detroit locations and increases awareness of Detroit style pizza through expansion, education, and sharing its history while providing memories and opportunities for others. Owned and operated by Shawn Randazzo and his mother, Linda Michaels, Detroit Style Pizza Co. is located at St. Clair Shores (586-445-2810) and Clinton Township (586-286-9030); and delivers Detroit style pizzas coast-to-coast via mail order. Focused on quality, community and people, Detroit Style Pizza Co. is open from 3 p.m. to 10 p.m. weekdays; 11 a.m. to 11 p.m. Friday and Saturday; and 11 a.m. to 10 p.m. Sunday.
# # #