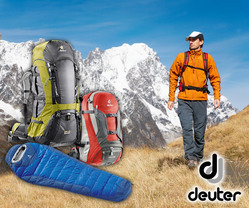 (PRWEB) March 8, 2011
The new Deuter Futura Pro range boasts the Aircomfort ventilation system whose special airy mesh and shoulder and hip ventilation pads help avoid heat and therefore uncomfortable sweat build up.
In addition, for extra comfort, on larger models such as the Deuter Futura AC Pro 42 L Backpack, superb load transfer is achieved via a flexible, lightweight spring steel frame and pivoting Vari Flex hip fins.
Deuter's technical backpack range is catering ever more effectively for the complete spectrum of serious & leisure outdoors and everyday urban carrying needs.
Deuter are Europe's leading backpack manufacturer in Europe and maintain this status by introducing innovations inspired by designers who are themselves dedicated outdoors people and so who know what backpack users are looking for.
Deuter Backpacks boast practical developments such as Aircomfort back ventilation, Variflex hip fins and the female-specific SL series in their rucksack designs that help Deuter meet the ever-increasing demands of the growing army of outdoor enthusiasts, mountaineers, skiers, athletes, hikers and travellers.
And Deuter also cater for people who just want to carry their belongings to and from school, work or the shops safely, comfortably and dry – and preferably while looking cool.
The model ranges cover Hiking, Trekking, Alpine, Bike and Protection Backpacks, most including modified models to suit the female anatomy in the Deuter SL Backpack series while the EL versions cater for users with longer backs.
The Deuter Hiking backpack range is epitomised by the Futura series with capacities from 22 to 32 litres and in the Futura Pro series from 34 to 42 litres with the Vario variant larger still at 45 + 10 (SL model) and 50 + 10 litres.
The Futura Pro combines three key elements, top Aircomfort ventilation, flexible carry comfort and a comfortable and snug floating Vari Flex hip belt. The result, unsurprisingly, is supreme hiking comfort, an essential when carrying heavier loads on longer trips.
But the Vario Pro also boasts many adjustable straps to enhance comfort and fit, lots of loops for gear attachment and a huge number of pockets for internal organisation and separation of, say, wet and dry clothing.
The functional thinking that goes into Deuter Backpacks is well demonstrated by the Deuter Guide range of Alpine backpacks.
The Guide boasts a slim shape and body-hugging fit to maximise ease of use on difficult terrain. But they still offer the carrying ability for climbers to take all the clothing and equipment they need and are built to cope with being used as a cushion in the snow for food breaks and being knocked against unforgiving rocky edges.
Bikers will appreciate the Deuter Attack Backpack range, whose features include a rider's arched profile, a hydration pocket, built-in back protection and Hyperlon flaps for optional additional protectors.
For daily use, Deuter have ranges of Daypacks and Junior Packs with Deuter quality materials and design features as well as their Businesspack Backpacks that really meet the needs of today's urban commuters with their highly organised interiors including a dedicated padded laptop compartment.
###