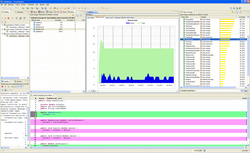 San Francisco (PRWEB) April 10, 2009
Embarcadero Technologies®, a database tools and developer software company, today announced a set of new and enhanced performance optimization tools to help companies detect, fix and prevent a range of costly software errors that will improve the performance, availability and scalability of software systems. These tools include J Optimizer 2009 for Java profiling and optimization, DB Optimizer 1.5 for SQL profiling and tuning, and Performance Center for automated 24/7 database monitoring.
These complementary performance optimization tools enable the profiling and fine-tuning of Java and SQL code from the Java application layer down to the database layer, facilitating code development and detection of issues before an application or database query goes into production. They also help customers quickly diagnose and fix performance issues within live production systems, enabling them to improve application and database performance, thereby extending the life of existing hardware investments. Performance Center, serves as a 24/7 "watchdog" to monitor production database systems and pinpoint problems impacting performance and scalability. This enables customers to set-up automated performance monitoring and preventative actions ensuring production system performance and service levels are met.
There is a two-fold value to this approach to optimization, according to Michael Swindell, vice president of products, Embarcadero. "An ounce of prevention is worth a pound of cure, so finding and fixing performance problems earlier in the application and database development lifecycles is far more cost effective than fixing issues downstream. And by combining dynamic code profiling with automated performance monitoring, customers can also capture and diagnose performance problems as they occur in production, automatically addressing conditions that may adversely affect deployed business-critical systems."
Debuting J Optimizer 2009
J Optimizer]is a next-generation Java profiling and error-checking tool based on the Optimizeit technology and development teams that Embarcadero acquired from Borland Software in 2008. J Optimizer enables Java developers to isolate and resolve performance issues during the development of Java programs and Java EE applications. With J Optimizer, developers can profile memory and CPU usage, display real-time threading information and determine which parts of the code are executed, all down to the line-level detail. J Optimizer also includes the Request Analyzer to track performance bottlenecks at the JDBC, JMS, JNDI, JSP, EJB, CCI and Web services level.
DB Optimizer 1.5
DB Optimizer 1.5 is the newest version of Embarcadero's SQL profiling and tuning IDE. DB Optimizer maximizes database and application performance by enabling DBAs and developers to quickly discover, diagnose, and optimize poor-performing SQL. DB Optimizer 1.5 builds upon the 1.0 version of the SQL profiling and tuning tool with new features such as continuous profiling, full multi-platform support, a revamped interface and full Unicode support.
Performance Center
Embarcadero Performance Center is an award-winning 24x7 database monitoring tool that tracks and reports on all aspects of database activity such as memory, I/O, contention, space, network, objects, users, and SQL code to pinpoint performance problems. Performance Center is available now and the new 2.7 release is scheduled to launch in Q2 2009.
Access Performance Optimization Anytime, Anywhere
With the recent launch of Embarcadero's new All-Access "toolbox" the company is now offering on-demand access to its award-winning application development and database tools. These tools range from rapid application and web development and database design and development to database management. Now, these three new and enhanced optimization tools - J Optimizer, DB Optimizer and Performance Center - will also be made available through All-Access, providing customers who are using All-Access with an entire system-wide performance suite via an economically-friendly and simple model. For more information on All-Access, visit http://www.embarcadero.com/products/all_access.
Pricing and Availability
J Optimizer and DB Optimizer are available now. Performance Center is available now and the new 2.7 release will launch in Q2 2009. For more information and pricing on individual optimization products, please visit the company's website at: http://www.embarcadero.com. As with all Embarcadero products, these optimization tools are also available in the cost-effective Embarcadero All-Access tool chest.
Supporting Resources

About Embarcadero Technologies
Embarcadero Technologies, Inc. is a leading provider of award-winning tools for application developers and database professionals so they can design systems right, build them faster and run them better, regardless of their platform or programming language. Ninety of the Fortune 100 and an active community of more than three million users worldwide rely on Embarcadero products to increase productivity, reduce costs, simplify change management and compliance and accelerate innovation. Founded in 1993, Embarcadero is headquartered in San Francisco, with offices located around the world. Embarcadero is online at http://www.embarcadero.com.
Embarcadero, the Embarcadero Technologies logos and all other Embarcadero Technologies product or service names are trademarks or registered trademarks of Embarcadero Technologies, Inc. All other trademarks are property of their respective owners.
# # #