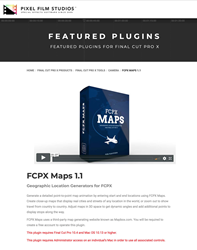 "FCPX Maps 1.1 is the ultimate update for one of the most noteworthy releases to come to Final Cut Pro X!"
ALISO VIEJO, Calif. (PRWEB) December 13, 2018
Generate a detailed point-to-point map animation by entering start and end locations using FCPX Maps 1.1. Create close-up maps that display real cities and streets of any location in the world, or zoom out to show travel from country to country. Adjust maps in 3D space to get dynamic angles and add additional points to display stops along the way.
FCPX Maps 1.1 is a fully-updated and revamped version of the original bestseller FCPX Maps. With notable quality-of-life improvements such as 4K compatibility and improved path controls, FCPX Maps 1.1 is a welcome update for all users!
To use FCPX Maps, simply enter in locations for both the start and end point, set the zoom level, and hit the Generate Map button. FCPX Maps will automatically create a map and animation that moves from one point to the next. There are 12 available map styles in this package: Street, Outdoor, Dark, Light, Satellite, Satellite Street, Ice Cream, Wham, Desert Planet, Vintage, North Star, and Moonlight.
Create additional stops in a path by adding new points. To add a new point, just hold the shift key and click on the path. Drag the new point to a desired location. Users can create a dynamic travel display by placing new points on additional cities and areas. Hit the Clear Path button to remove extra points.
Editors are given a variety of 3D camera functionality with controls like position, rotation, depth of field, and control over the apex of the path. FCPX Maps is set to link the position of the camera to the path by default, but users can uncheck this to manually position the camera.
FCPX Maps includes a drop zone indicator that moves along the generated path. Users are able to upload custom media into the drop zone. Add images like planes, boats and cars to denote modes of transportation. Any media can be applied. 3 reflective drop zone and text layers are also included so that users can mark points with logos, photos, text and animations.
Established in 2006, Aliso Viejo, California-based Pixel Film Studios is an innovative developer of visual effects tools for the post-production and broadcast community. Their products are integrated with popular non-linear editing and compositing products from Apple FCPX. Apple, the Apple logo, Mac OS X, and Macintosh are registered trademarks of Apple Inc. in the U.S. and/or other countries. All other trademarks and trade names are the property of their respective owners.