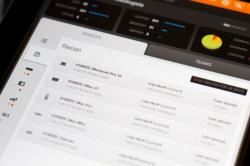 Mac IT Admins save time and work smarter with Device Scout.
Chicago, IL and San Francisco, CA (PRWEB) April 02, 2013
Device Scout is an add-on to any JAMF Software Server (or JSS). Device Scout collects data from a JSS then organizes and presents this information in a simple, easy-to-read manner. Device Scout also adds a layer of data intelligence as it provides quick insight into the massive quantity of data collected by the JSS. Device Scout is ideal for any Mac IT administrator who manages a JSS.
Device Scout's web interface takes a wealth of information about a device, reduces it to the most essential, and presents this data in a smart, easy to digest format. Critical information is highlighted and administrators have the ability to provide privileged access to specific groups of devices.
Device Scout is available as a standalone SaaS subscription and as part of Forget Computers' comprehensive Robot Cloud solution. Robot Cloud is a robust buildout of the JSS framework with additional, custom tools that enable IT administrators to work smarter when managing their Mac and iOS devices. Robot Cloud's time-saving features focus on providing Mac and iOS management tools to organizations with 1 to 100 Apple devices (typically those without their own JSS).
Device Scout was co-created by Forget Computers and 55 Minutes in 2011 and sold throughout 2012 by the two companies as two separate solutions. Forget Computers offered Device Scout as part of Robot Cloud, and 55 Minutes sold licenses to the software as a self-hosted addition to existing JSSs.
With the launch of Device Scout 2.0, Forget Computers and 55 Minutes have consolidated their efforts to provide an improved solution positioned for more agile growth. The self-hosted version of Device Scout 1.x will no longer be offered. Device Scout 2.0 will be a centrally-hosted SaaS product that comes bundled with additional Robot Cloud tools. 55 Minutes will continue to develop Device Scout, while Forget Computers will provide sales, support, and product direction. The product roadmap includes plans to offer anonymous, aggregated reporting along with iOS device support later this year.
Device Scout is available as an add-on to anyone with a JSS. Pricing is $1/Mac per month or $10/Mac per year. Discounts for educational organizations are available. Device Scout is also available as part of Robot Cloud, with plans starting at $5/Mac per month.
Forget Computers is a team of Apple support specialists skilled in delivering Mac and iOS management and support to Chicago Creatives and IT Professionals worldwide.
55 Minutes is a web development consultancy in San Francisco building apps for design-led businesses and startups.