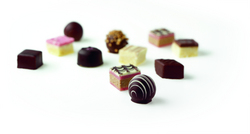 We like to think of each one of our creations as an irresistible masterpiece, made with the same love and dedication as the inspiring sweet makers in India
London, UK (PRWeb UK) September 6, 2010
Devnaa, http://www.devnaa.com, is proud to introduce a collection of delicately spiced chocolates inspired by the flavours of India. Formerly Barfibox, Devnaa has re-launched with a new brand image -- luxurious, colourful and equally as inspired by India as the confections. Devnaa's mark is a bold 'mango' design which takes inspiration from the iconic paisley print popular across India.
The collection of Indian sweets was created by combining traditional techniques and flavours with aspects of modern, artisan chocolate making, producing a range of truly unique, irresistible bite sized confections.
Devnaa was launched by siblings Roopa and Jay Rawal. Their journey began at the family's kitchen table with relatives and friends praising Roopa's homemade Indian desserts, in particular the chocolate barfi (pronounced ber-fee, which is a modern twist on a traditional Indian sweet).
The two decided to make a go of it, but first needed to learn more. Jay travelled to India to research the best authentic sweets and Roopa to the 'Slattery School of Excellence' to learn about artisan chocolate.
Back together in London, they shared their experiences and ideas, and began development of an all new collection of sweets and desserts by combining the authentic Indian recipes with artisan chocolate techniques.
The results are getting rave reviews. Their products have won Gold Great Taste Awards two consecutive years -- the most recent for their chai masala milk chocolate truffle which is made using their signature blend of cinnamon, ginger, cardamom, cloves and Belgian chocolate.
"We like to think of each one of our creations as an irresistible masterpiece, made with the same love and dedication as the inspiring sweet makers in India," says Jay Rawal.
Packaged in their unique "tiffin" style boxes and available in collections of 16, 32 and 48, these chocolates are perfect for individuals and families to share. Prices start at £11.99 for 16 chocolates. For more information, please visit http://www.devnaa.com.
Devnaa donates 10 pence from all chocolate boxes sold and five pence from all chocolate bars sold to 'HEAL,' a charitable organisation committed to providing shelter, support, education and healthcare for children in India.
Contact:
Jay Rawal
Phone: 020 8427 7110
marketing(at)devnaa(dot)com
###