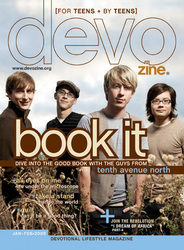 The story behind the music for Tenth Avenue North reveals that their deeply real and vulnerable music arises from hearts that are grounded in God's word.
Nashville, Tenn. (Vocus) February 10, 2009
The best selling, most played new Christian artist appears on the current cover of devozine, the Upper Room's devotional magazine for young people. The group, Tenth Avenue North, shares how they intentionally seek to live out their faith.
Now the band is celebrating its third No. 1 with the song "By Your Side," according to R&R's Christian chart. R&R has already declared Tenth Avenue North as the Best Selling and Most Played New Artist of 2008.
Lead vocalist and songwriter, Mike Donehey, says in devozine that "all the songs (on the group's debut album, Over and Underneath,) were sort of forged out of that collision between what we believe is the truth of God's word and our struggle to believe it and to live up to it."
Devozine encourages youth to spend time with God and to explore how their faith applies to their everyday lives. It uses a variety of reflections often written by other young people. Jeff Owen, Tenth Avenue North's electric guitarist, encourages devozine's readers to "get your friends together. Read together and wrestle through your faith." Using devozine can help young people to do just that.
"Our readers have asked for interviews with musical artists and celebrities -- not to hear about their latest hits but to discover what they struggle with and how they live out their faith," says Sandy Miller, editor of devozine. "The story behind the music for Tenth Avenue North reveals that their deeply real and vulnerable music arises from hearts that are grounded in God's word."
Since 1996, devozine has featured the writing of youth and adults who work with and care about youth. Each bi-monthly issue has nine week-long themes with daily meditations and weekend features. The article about Tenth Avenue North is one of the features in the January/February 2009 issue.
In addition to the magazine, youth ages 12-18 are invited to connect online at http://www.devozine.org. The website helps connect young people across the world in creating a global Christian community. Youth are invited "to share your poetry, your opinions, and your writing," as stated on the site. Upper Room Ministries also produces a Guide for Mentors and Small Groups alongside each issue.
Tenth Avenue North begins a 20-city tour March 17 in Billings, Mont., where it joins MercyMe on the "Rock & Worship Road Show." More information about the band and its schedule may be found at http://www.tenthavenuenorth.com and at http://www.myspace.com/tenthavenuenorth.
For more information about devozine or to order subscriptions, please visit http://www.devozine.org or call 1-800-925-6847.
News Media Contact: Jeanette Pinkston, Nashville, Tenn., (615) 340-7017
Upper Room Ministries, the publisher of devozine magazine, is a ministry of GBOD. GBOD's mission is to support annual conference and local church leaders for their task of equipping world-changing disciples. An agency of The United Methodist Church, GBOD is located at 1908 Grand Ave. in Nashville, Tenn. Visit http://www.gbod.org for more information or call the Media Relations Office toll free at (877) 899-2780, Ext. 7017.
# # #