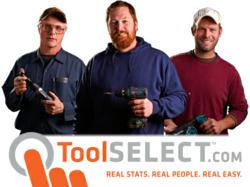 "I can attest that longer runtime is the primary concern among many professional contractors."
Grand Rapids, MI (PRWEB) February 10, 2012
DeWalt power tools launched 12 new cordless tools this week, batteries or chargers as well as two new corded saws, giving ToolSelect's members 14 new tools to discuss.
DeWalt's new cordless tools include three 20 Volt MAX brushless impact drivers, featuring DeWalt's first ever cordless brushless-motor technology, claiming a 57% longer runtime.
"I spend a great amount of my time on jobsites talking to end users about their demands in a tool," says Jeremy Torok, senior product manager with DeWalt. "I can attest that longer runtime is the primary concern among many professional contractors."
Other tools launched in the 20 Volt MAX line include a metal-cutting circular saw, pivot reciprocating saw, jigsaw, cut-off tool, compact 3/8" impact wrench with hog anvil and two 1/2" high-torque impact wrenches. In addition, DeWalt introduced the 20 Volt MAX slide battery pack with fuel gauge and combination dual-port fast charger.
On top of all the cordless tools, DeWalt added two new corded tools to its arsenal. The 7 ¼" circular saw is designed to give power and performance in a compact design, and the reciprocating saw is configured for balance and control.
"Fourteen tools hitting the market at once is exciting enough for us, particularly when they're all from the same brand," says Tom Klein, vice president of marketing/merchandising with ToolSelect. "These new DeWalt power tools get our member-driven community excited to see what it's all about. I expect to see new unbiased reviews from our members increase dramatically in the coming days and weeks."
About ToolSelect
ToolSelect is an unbiased community powered by its members that covers all aspects, types and brands of tools, but does not actually sell any tools. ToolSelect's members include everyone from experienced tradesmen to complete novices. Users trade tips, compare notes, debate their favorite tools and work together to help each other make intelligent purchasing decisions.
###