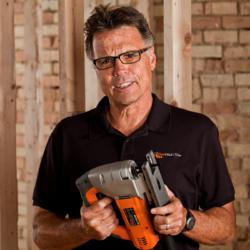 We recognize that we have a role in helping to make jobsites as safe and productive as possible.
Grand Rapids, MI (PRWEB) April 12, 2012
DeWalt Tools is launching a new dust system consisting of three hammer shrouds, two grinder shrouds and a vacuum connector system designed to minimize dust inhalation, and the system has the ToolSelect community talking about dust collection.
The system is aimed at cutting down on the dust inhalation typically present in concrete cutting, chipping and drilling applications.
"We recognize that we have a role in helping to make jobsites as safe and productive as possible," says Jeff Beck, product manager with DeWalt. "Dust and crystalline silica exposure is a serious issue facing many contractors today. Our new dust-collection system, along with our current dust-extraction products, will help to protect users and allow them to feel confident in the tools they require to earn a living."
Three hammer shrouds are built to reduce airborne dust created by concrete drilling, chipping and demolition. The hole-drilling and cleaning hammer shroud comes with two interchangeable drilling heads, for holes up to two inches that extract dust. The demolition hammer shroud extracts dust particles from heavy demolition applications. The chipping hammer shroud includes three nozzles of different sizes so the user can match the chisel and nozzle length, maximizing dust extraction.
ToolSelect is a member-driven community focusing on unbiased tool reviews from users, and it's common to see members judge the worth of a tool largely on its dust-collection capabilities, which shows the importance real tool users put on dust collection.
"Dust collection is extremely important for a lot of reasons," says Gerry Barnaby, Director of Excitement with ToolSelect, "In many tool reviews we see in our community, members put a lot of stock into the quality of the dust collection on each tool. We'll be interested to see how DeWalt's new system impacts the industry."
About ToolSelect
ToolSelect is an unbiased community powered by its members that covers all aspects, types and brands of tools, but does not actually sell any tools. ToolSelect's members include everyone from experienced tradesmen to complete novices. Users trade tips, compare notes, debate their favorite tools and work together to help each other make intelligent purchasing decisions.
Like ToolSelect on Facebook (ToolSelect)
Subscribe to ToolSelect on YouTube (toolselecttv)
Follow ToolSelect on Twitter (toolselectmedia)