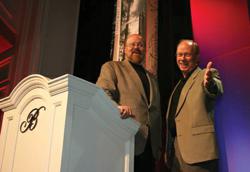 Dewitt Jones is a kind of John Lennon for the business world. He sees the business world not as it is but as it could be.
New York, NY (PRWEB) May 17, 2013
Dewitt Jones Everyday Creativity training video has recently become a huge success for Carlton's Training. The announcement to universities and government agencies of the powerful effect it has upon companies has caused a large ripple effect to healthcare organizations and the private sector. Carlton's Training has seen a great spike in training due to the Dewitt Jones Everyday Creativity training video.
The training world is largely comprised of business leaders sought after by companies to help raise their bottom line. The stats don't lie. Companies that invest in their employees reap the benefits. But what is amazing about Dewitt Jones is how he is neither in the business world nor a business leader. He's a photographer for National Geographic.
Carlton's Training and others saw Dewitt Jones as something more than a photographer. He's an inspiration. "Dewitt Jones is a kind of John Lennon for the business world. He sees the business world not as it is but as it could be," says Mark Long of Apple Computer. Others reflect this sentiment. And the Everyday Creativity Dewitt Jones program has become a best seller around the globe.
Dewitt Jones has a recipe for success. What sets him and his training videos apart from the business gurus and enables him to sell out speaking engagements wherever he goes is his passion and creativity. He inspires an audience not with statistics and workplace etiquette but by touching their lives and understanding that each individual has to decide what is important for them within the organization.
Carlton's Training found that Dewitt Jones has a special gift. His perception and viewpoint is amazing. But his ability to get others to find what works for them and their strengths is like creating many other Dewitt Joneses. People need to be inspired at work, as they need to be inspired in their lives. There's a lack of passion in both places and Dewitt Jones helps people find their passion again.
Carlton's Training works with Dewitt Jones and his training videos to create a more inspiring workplace for their clients. Other subjects they work to fulfill are diversity training, harassment training, sexual harassment training, leadership training and management training. World-renowned authors and celebrities featured in their training videos include John Cleese, Lou Holtz, Tom Peters, Ken Blanchard, Ben Zander, Catherine Crier, Morris Massey and Bob Farrell. To view training videos featured in this story or learn more about this organization click on Carlton's Training.